Review: Little Miss Sunshine (Arcola Theatre)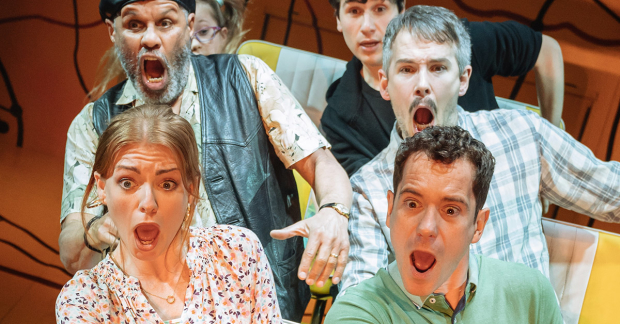 Like its protagonists the Hoover family, the Little Miss Sunshine musical, adapted from the film of the same name, has had something of a meandering and stop-start journey to reach its European premiere at the Arcola Theatre (ahead of a major UK tour). Initially workshopped in 2009 it ran first in 2011 in California for two months, before being completely recrafted and re-mounted off-Broadway, where it played for another two months in 2013.
The 2006 film the musical is based on is nothing short of a masterpiece, with then-newbie screenwriter Michael Arndt crafting a delicate, harrowing yet cathartic story about a family setting out last minute from New Mexico to get their youngest, Olive, to the titular Little Miss Sunshine pageant in California. The pageant is all Olive's ever wanted, and the family are gunning to make her dreams come true, no matter the cost.
The twist is that for the Hoovers, everything sucks – their credit cards are maxed out, their bills aren't paid, their dreams are a distant and inaccessible prospect. It's an offbeat, enigmatic tale that feels at odds with the chipper, optimistic brio that is present in the musical adaptation, penned by James Lapine.
Arndt jumped from Little Miss Sunshine to work on projects including Wall-E, Toy Story 3 and The Force Awakens, and Lapine's book is almost completely faithful to the original. There are a few neat novel touches, (especially a quick flashback to parents Richard (Gabriel Vick) and Sheryl (Laura Pitt-Pulford)'s early days as a heady, lovestruck couple), but for the most part the piece feels like a rehashed and awkward transplant of a beautiful piece of screencraft – all the iconic quotes and quirks are present but they feel a bit ungainly among the showtunes and choreographed pizzazz.
Lapine's work is the lesser issue – William Finn's music and lyrics are almost actively trying to be forgettable, with meandering tunes rarely doing the performers any favours and few numbers landing with much gusto. The pageant itself brings a lovely conclusion and a brief respite from the tedium but it's a high among a two-hour slog.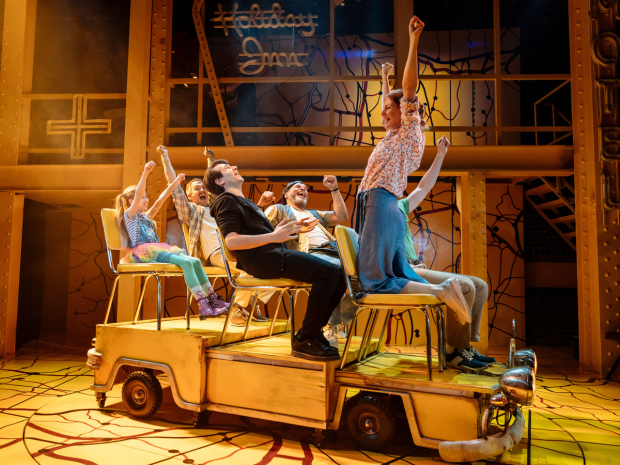 Which is a shame because Mehmet Ergen's staging is full of fantastic turns – Vick (who will also tour with the show) brings an unending cauldron of energy and overbearing drive, while Gary Wilmot has a blast as the drug-sniffing wildcard Grandpa. Imelda Warren-Green manages to steal both of her scenes in bit-parts as nurse Linda and Miss California, while Pitt-Pulford breaks hearts as a mother seeing her house and family crumble around her – especially in scenes when stood back behind the action, simply focussing on holding herself together.
Characterisation like this is rarely given a chance to shine in Ergen's direction, hurried and often confined to the static VW van created out of chairs on a trolley at the centre of the Arcola's intimate stage (it'll be fascinating to see how David Woodhead's set scales up to play on venues almost ten times the capacity on its tour).
It's ironic that the production ends up mimicking the film – a faulty yet nostalgia-laden vehicle, pushed along through sheer determination by a stoic group trying its best.