Review: God of Chaos (Theatre Royal Plymouth)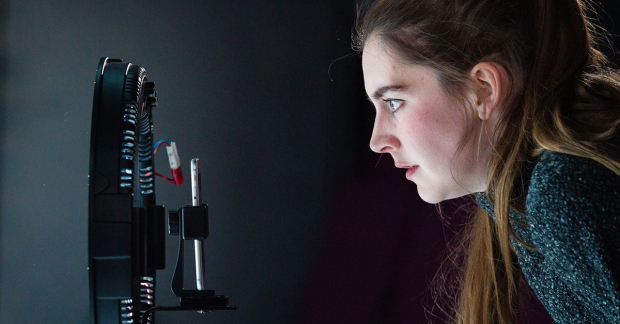 Every day, everywhere, we are bombarded with images and information via the internet. Conceived as a vehicle for good, many would say it's now a handy conduit for racism, sexism, pornography, homophobia and any other kind of phobia you'd care to name. Alongside harmless films of kitties being clever and freak weather, there are darker messages which can manipulate, corrupt or frighten. And then, there's fake news.
In this new Theatre Royal production, writer Phil Porter does a terrific job of poking the hornet's nest and making the audience ask the question: Where do we draw the line?
Stan and Rosa are human moderators for an unnamed social platform, intervening when something has been flagged up online to pass their judgement – delete or remain? Their work in a windowless (and one suspects subterranean) room has desensitised them. They bicker and trade insults constantly. Deciding whether something is offensive or harmful comes with a web of rules and Rosa, for one, is prepared to manipulate them to suit her own agenda.
Stan just wants to get a date and the chance to leave here and find more challenging work with the coding team. After all, nobody actually applies for a job as a moderator. Except, one day, Becky arrives having done just that. It shakes up the dynamic in the team and challenges Stan and Rosa about the decisions they've been making. Is posting "God is gay" online offensive? Or blasphemous? Or insulting? Is a picture of an island of plastic detritus floating in a tropical sea something we need to know about, or something that should be kept from us?
Porter's play feels very much of the moment. Nothing is certain, we are in a state of flux on so many levels, and we are having difficulty in deciding where the lines should be drawn. On the stage, as in life, banks of screens bombard us with mesmerising images and sounds. We feel overwhelmed and confused.
There's terrific ensemble work from Lizzy Watts (Rosa), Ryan Early (Stan), Laura Waldren (Becky) and Omar Austin who plays videographer Adam. The audience left with many people deep in animated conversation about the issues raised. And there's nothing fake about that reaction.