Review: The Unreturning (Theatre Royal, Stratford East)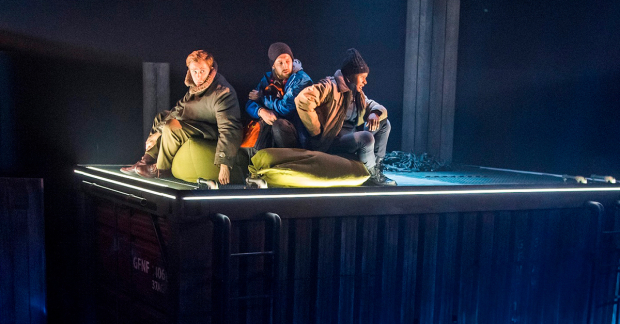 1918, 2013 and 2026 come together in a veritable whirligig in Anna Jordan's play The Unreturning, which is currently on a UK tour following its premiere at Theatre Royal Plymouth in September 2018. Conceived by physical theatre maestros Frantic Assembly, this is a piece all about the consequences of conflict – the aspects of a personality that can be left on a battlefield, the humanity that can be scorched away in the heat of war.
We have George, a Western Front survivor shaken to his core by near-incessant exposure to the horrors of Belgium. We have Frankie, disgraced following an attack on a civilian in 21st century Afghanistan, and finally, there's Nat, desperately searching for a lost brother in a future Britain torn apart by insurrection. For Jordan, the military garb may change but there will always be some sort of effect when men are placed into circumstances surrounded by death. Survival does not mean returning as you once were.
All three stories are played out on Andrzej Goulding's versatile and revolving shipping-container set, a climbing frame for the cast of four in what becomes a non-stop 100 minutes of unrelenting kinetic storytelling. Joe Layton, Jared Garfield, Jonnie Riordan and Kieton Saunders-Browne do the work of champions, deftly weaving together each of Jordan's plot threads, multi-roling through each time period.
It's rare to see a show that brings together technical and acting efforts so fluidly – Goulding's projection, Zoe Spurr's lighting and Pete Malkin's sound design all allowing the different eras to coalesce, washing over one another as the plot drives on.
The main problem is that Jordan's book is so crammed with content, exposition and character that nothing ever seems to land as fully as it could. With hurried, bitty scenes, specifics are lost or traded away in what becomes a glossy, cursory exploration of a theme that never seems to delve too far beneath the surface.
Spending the play essentially deciding that yes, war is hell, feels like a slightly underwhelming thesis. The intricacies are lost amidst all the brilliant technical achievements and perfectly choreographed physical sequences. This is most keenly felt in Nat's dystopian future – Jordan spends so long dressing up this vision of a war-ravaged nation that the underlying significance of the story slowly ebbs away.

But director Neil Bettles manages to keep the energy level at a near-constant high, sidestepping the meatier ideas in favour of a high-octane rollercoaster that roars through the decades. A spectacle, for sure, but upon reflection lacking the necessary heft.