Review: Fun Home (Young Vic)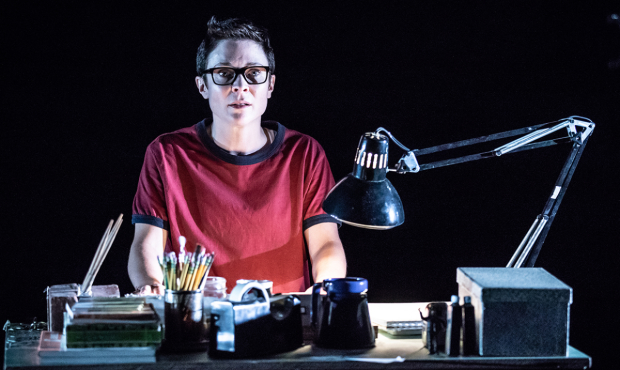 As musicals go, Fun Home has certain unique qualities. It's the only one I can think of that takes its title from the funeral home run by Bruce, the father of its heroine. And the only one that is based on a non-linear graphic memoir about a girl's discovery that she is a lesbian – and that her father is a closet homosexual. Four months after she comes out, he steps in front of a truck and kills himself.
Summed up like that, it doesn't sound a barrel of laughs. But the truly remarkable thing about this show, adapted from the graphic autobiography by Alison Bechdel, is just how funny, true and touching it is. It reaches a level of emotional honesty that other musicals just don't begin to touch.
With a book and lyrics by Lisa Kron and music by Jeanine Tesori, it premiered off-Broadway in 2013, transferred to Broadway in 2015 and eventually won five Tony awards, including the prize for best musical. This new production arrives at the Young Vic with the same director, Sam Gold, and the same creative team.
The depth of their experience shows in the fleet grace of the production, narrated by an older Alison (Kaisa Hammarlund) trying to capture in cartoon and captioned form scenes from her life, which are enacted by Medium Alison (Eleanor Kane) and Small Alison (Brooke Haynes). The staging very often spotlights the narrator, marooned centre-stage, watching with wonder, sorrow and embarrassment as events unfold around her. Her quest is to understand. In the opening number, she picks up the words of the song her father has sung to her: "I want to know what's true/Dig deep into who/And what/And why/And when/Until now gives way to then."
Their similarity and difference is the nub of the piece. So the story moves, in David Zinn's sophisticated design, from the early scenes in the polished grandeur of their historic house on Maple Avenue, which Bruce tends to like a museum, and where his three children must fit in, to the bleak white wall that suggests both a bleak trip to New York, and the disintegration of family life that gradually ensues. Finally, courtesy of one glorious coup de theatre, which makes the stage feel immense, the walls turn dark for Bruce's symphonic monologue of despair.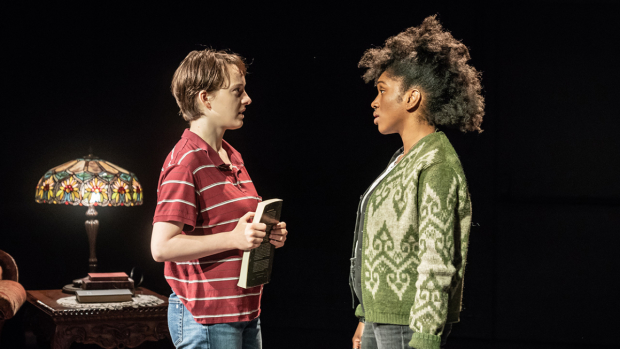 En route there are some showstopping numbers, with Tesori's music flexing and changing to suit the mood and meaning of Kron's words. There's a scene where Small Alison and her young brothers break into a Jackson Three routine around a coffin, another where psychedelic lighting (courtesy of Ben Stanton) transforms the stage into a Partridge Family parody, a sharp contrast with the reality Alison is now experiencing. Danny Mefford's choreography plays its part in the impact of such routines, but it matters too in more simple ways: the moments when the characters are simply strung across the stage, isolated from each other by squares of light, are equally impressive.
What's wonderful about Fun Home is the way it uses its effects to reach directly into the heart of feeling. Medium Alison's exuberant ballad about her first night with her lover Joan (Cherrelle Skeete) – "I'm changing my major to sex with Joan" – is both a joyful cry of realisation and a perfect summation of all the feelings (fear, enthusiasm, tenderness, wit) that she has encountered. Small Alison sings of love to a delivery woman, who makes her realise you don't always have to feel uncomfortable in your own skin, and just about breaks your heart with the clarity of that recognition.
Haynes, on the first night, was utterly astonishing as Small Alison – clear-voiced, confident, an entirely rounded character. Kane and Hammarlund were equally vibrant. But the entire show is delicately and beautifully acted. As Bruce, Zubin Varla magnificently conveys both his generosity and the terrible internal conflicts that make him try to override his daughter's individuality. The scene where he fights against the temptation to seduce a teenage boy, with darting eyes and a constantly pursed mouth is characteristic of the subtlety of his entire performance.
As Helen, the mother who knows all but says very little, Jenna Russell has the most difficult task, of being silent and passive but she finely conveys the pain involved. Her song "Days and Days" is both an individual cry of agony and an example of Fun Home's ability to evoke the terrible sadness of parents and their children and all the ways communication between them can go wrong.
That it can end on a note of almost-triumph, without sacrificing any of the grief and suffering, is just another sign of what an unusual and impressive show it is.