Michael Coveney: could we be seeing a shift in musical theatre?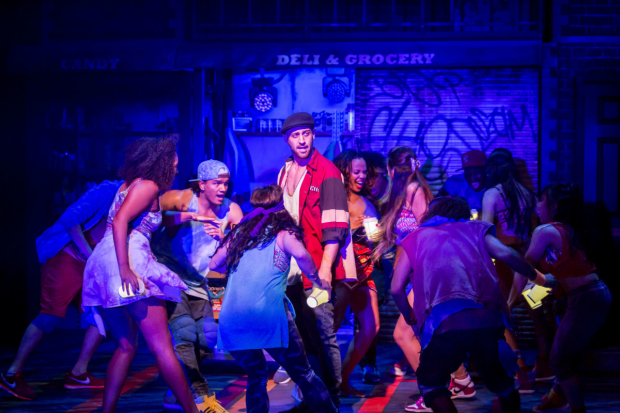 The opening of In the Heights at the King's Cross Theatre this week was our first chance to catch up with the hottest new name in musical theatre – American Lin-Manuel Miranda – since his latest show, Hamilton, received the sort of acclaim on Broadway unheard since the early days of Sondheim and Lloyd Webber.
The latter, working in New York on his film-to-stage version of School of Rock with Julian Fellowes, tweeted that Hamilton "raises and changes the bar for musicals" while David Hare, who'd rather poke his eyes out than sit through Salad Days, has saluted the gorgeous music and clever lyrics while wondering if, "without such a myth [that of America's Founding Fathers], could the British ever produce such a musical?"
The latest efforts of our perennially leading hopefuls George Stiles and Anthony Drewe include Mary Poppins and two shows about pigs (Betty Blue Eyes and Three Little Pigs), while the potentially explosive and talented partnerships of Richard Bean and Richard Thomas, and Charles Hart and Howard Goodall, have produced decent, enjoyable films-to-stage musicals, Made in Dagenham and Bend It Like Beckham, which have popular appeal within certain obvious conventions.
But with Miranda you feel there's a shift taking place, even if In The Heights, which started out ten years ago before winning four Tonys on Broadway in 2008, looks like settling down as a prentice piece. The book's clunky, but it's the dizzying complexity of the rap lyrics, the sheer rhythmic vitality and harmonic splendour of the music which gets you going. And in its portrait of the Washington Heights neighbourhood, it comes palpably, and movingly, from the heart.
For at the end of the day musicals, like plays, only ever work if the writers have something to say. And perfection is the impossible dream – well, My Fair Lady may be perfect in its way – and even the best musicals of the twentieth century, Show Boat and West Side Story, have flaws (Sondheim never even liked "Maria" in the latter). Come to think of it, I often prefer musicals that have failed magnificently, or come into this breathing world, like Richard III, scarce half made up (Paul Simon's The Capeman, anyone?).
Watch our cast interview and clips of In the Heights
Because you can't prescribe for a musical, or teach someone how to write one. It's all about talent, intelligence, inspiration and cultural connection with an audience wider than the self-consuming musical theatre coterie. On that count, In the Heights scores very heavily indeed. And just as Fun Home and Hamilton in New York seem to be altering the goal posts (I look forward to seeing both in a few weeks' time), so our own National Theatre has been quietly tugging away at the medium for ten years under Nicholas Hytner.
One of the less remarked aspects of Hytner's regime was his show-casing of such vibrantly original and, yes, intellectually engaging musicals such as Caroline, or Change by Tony Kushner and Jeanine Tesori, London Road by Adam Cork and Alecky Blythe, The Light Princess by Tori Amos and Samuel Adamson and Here Lies Love by David Byrne and Fatboy Slim. All of these shows moved drastically away from anything they might have accidentally absorbed from Lloyd Webber or Sondheim and that alone made them doubly fresh and interesting, if not box office belters.
The big disaster for musical theatre over the past thirty years has been its divergence from popular culture, the rock and pop charts, the MTV generation. Which is why, for all his brilliance, Sondheim's a freak and his musicals represent a sort of gorgeous theatrical cul-de-sac. Miranda is joining up the language of the streets and the music of the kids with his own innate sense of mission and political nous. Judging by In the Heights, there's nothing cynical about this, which is why audiences respond so positively.
Nor is Miranda immune to the irony of siring a monster hit for ageing Broadway audiences (tickets, said the New York Times, are "status objects on par with a reservation at the Polo Bar or an early Apple Watch"): "God bless the people who make it their business to go and see every show," he told the Sunday Times last weekend, "and God bless them for being able to afford it."
He values that audience, but of course wants it to grow. Each day, Hamilton holds a $10 lottery and Miranda is working on what he calls "a giant educational initiative" that will enable every New York City schoolchild to see the show." Perhaps, after all, and not before time, musical theatre is on the move.