Review: Eyam (Shakespeare's Globe)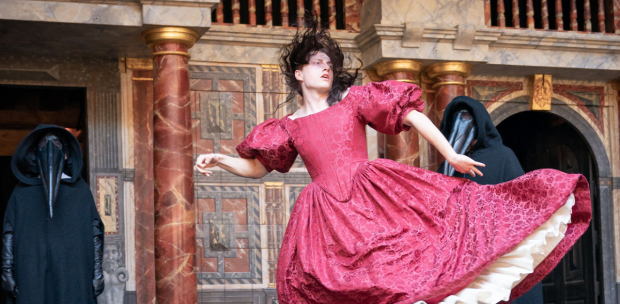 If the Globe's uproarious first piece of new writing for its 2018 season, Emilia, was all about bringing the past to life, then Matt Hartley's Eyam is squarely fixated on death.
The story of the small Derbyshire village of Eyam (pronounced ee-um rather than i-am like the cat food) is a fascinating one – do look it up, it's all true – as the Great Plague struck in 1665 the citizens collectively decided to shut up their gates and let the plague burn itself out within their walls, sacrificing themselves for the sake of a sickness-ridden nation.
Hartley's three-hour account of the experience does a meticulously good job of recreating the various denizens of the town, fraught with their own personal woes before the sickness has hit. All manner of village eccentrics pop up – the lovelorn teen romancers, the boozy cuckold, the grief stricken and pious Puritan. Think The Crucible mixed with a dose of the stage version of Titanic and you're not far off.
But an entertaining diaspora of 17th-century rural civilians does not a driven plot make, and it takes over an hour for the plague to hit and ramp up the fever, before being cruelly cut short by an interval. To make it worse, Hartley doesn't go far to highlight the national significance of the town's sacrifice – the plague just sort of pops up halfway through – so you never get the sense of a rampaging sickness overwhelming a nation.
Designer Hannah Clark has a field day applying all manner of blisters and blights to the sickness-stricken natives (as well as some creepy plague doctor beak-mask costumes), but also propels the Globe's stage forwards and coats it with an unassuming black turf – like some big black box space with an economic number of props.
Overseen in Adele Thomas' superb direction, there are some solid turns from a large ensemble cast playing the various Eyam folk, with Annette Badland's pious and forlorn Thomas Stanley evoking a quiet sympathy while Sam Crane's wide-eyed reverend William Mompesson is sympathetic, though perhaps never convincingly steely enough to make you believe he orchestrated the town's initiative.
Hartley's text makes some salient references to the power of community in the face of adversity, when disasters can unify through shared experience, and it's hard to deny that Eyam's got a great history to tell. But as the end of act one goes from fevered (and feverish) paranoia into a grinding sullen stoicness (there's enough gravedigging to put Hamlet to shame), as well as a wildly miscalculated final ten minutes, Eyam never feels like it gets it dead right.