Review: Doctor Faustus (Sam Wanamaker Playhouse)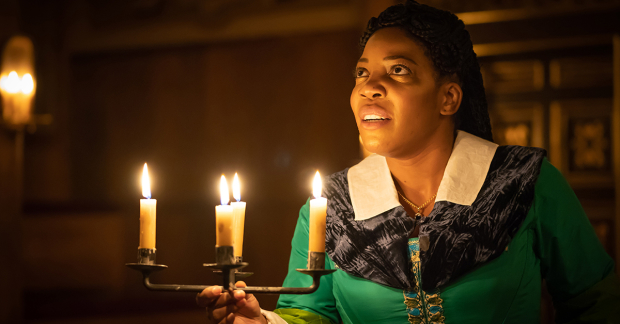 Christopher Marlowe was a pretty cracking writer. If he'd lived a couple more decades (he was murdered at the age of 29 in 1593) we could well have been watching shows in Marlowe's Globe. His Doctor Faustus contains some of the most stellar writing in the English language – it's a text that uses heresy for the sake of character study, exploring the consequences of ambition and desire.
For the most part, director Paulette Randall dutifully and masterfully brings the show to life within the confines of the candle-lit Sam Wanamaker Playhouse. The titular solitary scholar Faustus is played in a gender-switched retooling by Jocelyn Jee Esien, with the piece charting the life of the character as she sells her soul to the devil in exchange for 24 years of whatever her heart desires.
Jamie Lloyd 's sweaty, Harington-with-his-Kit-off version, Maria Aberg's RSC production and the Globe's 2011 iteration all indulged in the spectacle of Marlowe's writing, summoning forth grotesque hellscapes to show the magnitude of Faustus' decision as the underworld comes forth to claim its newest inhabitant. What Randall delivers is a chamber piece, with the focus narrowed to the central character and her conceptual understanding of the hypocrisy-riddled world in which she lives.
Which would be perfect if Esien fully nailed her Faustus down, but sadly the true complexity of her tortured theoretician never seems to really land. A female Faustus, rather than another angsty man, is certainly refreshing, and Esien's comedy talents can pluck some laugh-out-loud gold from Marlowe's script. The summoning of Helen of Troy is also played as a tender, quiet moment between two women.
But Esien never feels as comfortable with Marlowe's doctrine-laden monologues, or his more protracted opening scene, swaddled by dusty tomes of every discipline on Libby Watson's sparse set. As a result, both the stakes and the weight of Faustus' decision don't really land.
There are some pretty solid turns amongst the rest of the cast – if you looked up dastardly in the dictionary, you'd probably see a picture of Pauline McLynn's satanic sidekick Mephistopheles, sinister glare softly lit by the glow of candles. A terrific performance, but feeling somewhat underutilised, you almost wanted her to unleash her full demonic power on the naive Faustus.
Both McLynn and Esien are surrounded by great supporting players and it's the bigger ensemble set pieces where the show springs to life – particularly the fateful visit to the Vatican. John Leader and Louis Maskell bring some light audience-interaction and farce to proceedings while Lily Bevan's straw horse fiasco is increasingly amusing. Not a hellish production for a single millisecond, just never really reaching the lofty climes of heavenly.