Review: An Octoroon (National Theatre)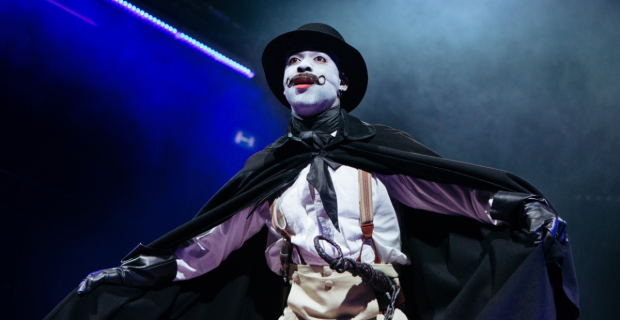 What a bold, exhilarating piece of work this award-winning play by Branden Jacobs-Jenkins is. Given its British premiere at the Orange Tree Theatre, the production now arrives at the National Theatre like a heat-seeking missile, releasing its energy and power, its comedy and its deep, dark anger. Above all making you think.
Not all those thoughts are positive ones, but Jacobs-Jenkins' willingness to ask questions is what makes this play so sensational. At its simplest level it is a refashioning of the Irish playwright Dion Boucicault's once-popular 1859 melodrama The Octoroon, about slaves and their masters on a Louisiana cotton plantation. In its day, it offended everyone by refusing to take sides in the abolitionist debate. But its success sprang from its plot – where the white owner of a struggling plantation falls for Zoe, his uncle's illegitimate daughter and the octoroon of the title, with one-eighth black blood – and from its spectacular stage effects.
Jacobs-Jenkins frames the staging, however, by the appearance of a black playwright, called BJJ, who tells the audience (the lights are up at this point) about a conversation he had with his therapist (who may or may not be imaginary) about his "lowgrade depression" and who admires the play but can't find any white actors willing to take on parts they now see as racist.
His solution, which we see enacted in front of us, is to put on white face – and from that moment the astounding Ken Nwosu plays three parts. He is the playwright, the good-hearted plantation owner George and his moustache-twirling nemesis, the evil M'Closky and he dashes extravagantly between them, with much swirling of cloaks and leaping across the stage, even at one point fighting himself.
The male actors around him don blackface, and even redface, to similarly switch between parts while four of the five women stay within race and within character throughout. There's a white heiress Dora (Celeste Dodwell), who loves George to no purpose, the distraught Zoe (Iola Evans) and two smart-talking female house slaves (Vivian Oparah and Emmanuella Cole), whose conversation has a tang of the contemporary and whose resilience provides the play with its most moving scenes. Every single one of the eight-strong cast, accompanied by cellist Kwêsi Edman, is pitch perfect and utterly superb.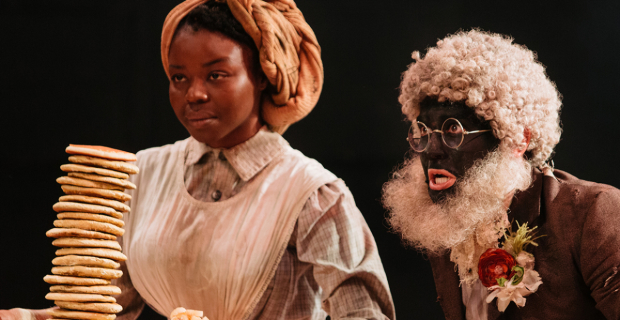 Throughout, BJJ steps out of the action to comment upon it, reminding us we are an audience watching a show, asking about the limitations and provocations of theatre, wanting to make us feel. He's assisted by Boucicault himself (Kevin Trainor), drunken, querulous and much concerned that theatres no longer have "petting zoos" attached. By the close, as the staging gets increasingly extravagant, the actors are describing the action – a chase ensues, a ship blows up – and its meaning within the confines of 19th-century theatre. "They used to call it the Sensation Scene," says BJJ.
Director Ned Bennett, assisted by the superb movement director Ivan Blackstock, orchestrates this apparent mayhem with glee. His effects are quite scary at times – the first appearance of a tap-dancing Br'er Rabbit (Cassie Clare), presumably a symbol of the slaves' battle to survive, is utterly terrifying. They are always extravagant – dollars and red glitter showering down from the flies, the stage (in Georgia Lowe's bracingly simple design) taken apart for a slave auction – but utterly confident. It takes the breath away. It is impossible not to laugh at what we are seeing; the moment when Dodwell's shrilly excitable Dora courts George on roller skates is a particular delight. So are potentially far more serious ones, as when the house slaves confront the field slave Grace (Cassie Clare, again), about why she failed to run away. "You OVERSLEPT?"
But it is also impossible not to feel chilled when Zoe describes, in the melodramatic language of the day, the "unclean" taint in her blood that makes it impossible for her to marry a white man. Scenes such as this – and those where the senior house slave Pete (Alistair Toovey), an Uncle Tom figure, berates his fellow slaves with copious use of the n-word, are profoundly unsettling. I felt my white liberal soul in constant turmoil, and I wondered what the black audience members around me thought. Which is, I suppose, the whole point.
Jacobs-Jenkins tackles this unease head-on. "Black playwright? I can't even wipe my ass without someone trying to accuse me of deconstructing the race problem in America," BJJ says in the opening scene. Yet this magnificent, challenging play does exactly that. It uses the minstrel tradition – and the shock of a picture of a real lynching – to make us question our assumptions and what we think we know. Slippery, dangerous and utterly compelling, it makes us ask questions. It is already sold out, but it deserves a much longer run so that at least some of them can be answered.