Review: A Clockwork Orange (Liverpool Everyman)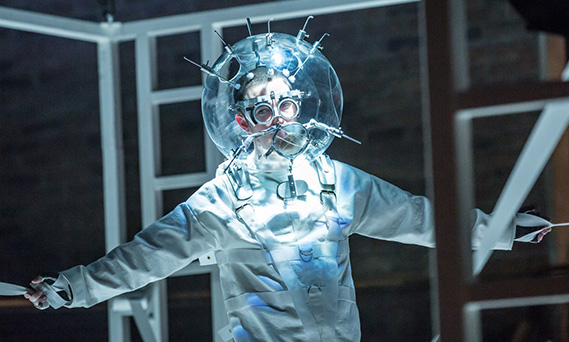 A Clockwork Orange is a book and then a film famously concerned with a young man whose principal interests are rape, ultra-violence and Beethoven. Author Anthony Burgess professed to have a love/hate relationship with both forms, so later wrote a musical adaptation. It's this iteration that has found its way onto the Everyman's stage as the latest in its new repertory season.
The production can't help but be influenced by Stanley Kubrick's film aesthetic, which has seeped into the public's consciousness for just under half a century. Indeed the set and live music in A Clockwork Orange are a triumph here. All the action takes places in a sometimes ultraviolet, frequently ultraviolent, white cube, completely bare but for three trapdoors that allow entrance and exit by stairs, lift and even slide. The cast makes full use of the possibilities offered by all, resulting in moments both amusing and disturbing.
Meanwhile, Alex's beloved Ludwig Van is never far away, frequently represented through percussion live on stage by Peter Mitchell. Burgess's songs are a curious mix of cabaret vulgarity and winsome sentiment, but they demonstrate the unique rhythms of the Nadsat language the protagonists speak.
Malcolm McDowell casts a long shadow as white-clad antihero Alex DeLarge, roaming the streets with evil intent, but George Caple does well in conveying the anti-hero's lust for violence while remaining sympathetic and engaging. Richard Bremmer and Keddy Sutton play a variety of characters, stealing scenes with tic-driven performances or asides to the audience.
Nick Bagnall's production also borrows the theatrical absurdity of the 1971 film: the police, decked out with trotters and pig snouts, announce themselves by nee-nawing to the stage, packing off Alex to prison after he murders a woman with a bust of Beethoven. The occasional appearances of masks add another layer of grotesquery but they also divert attention away from the cast juggling multiple roles.
However, this playfulness reaches bizarre proportions when it's revealed that one of Alex's fellow prisoners is a Jimmy Savile lookalike. Then the Minister for the Inferior arrives in a wheelchair, from which she later rises to walk off stage, with a glove puppet representing the prison governor.
These moments attracts laughter, especially as they're played well by the respective actors and are presumably included to reflect the Brechtian notes Bagnall detected in Burgess script and music. But they come off as fundamentally affected – as if the text is too weak to stand on its own.
Almost 50 years on the film remains shocking, dissonant and hilarious. In 2018 we might perceive echoes of the dark web and casualisation of screen violence in A Clockwork Orange on stage – or, perhaps, an exploration of free will – but these themes don't really hit home.
Instead it's the unsettling choreographed violence and carousing of Alex and his droogs, sneeringly, charmingly sinister and speaking their own Nadsat language, that lingers. Perhaps Alex's malevolent magnetism – and the audience's acceptance of it – is why A Clockwork Orange remains so unnerving.
"Destruction is our ode to joy," says Alex. More of both would have been welcome.