Review: Paint Your Wagon (Liverpool Everyman)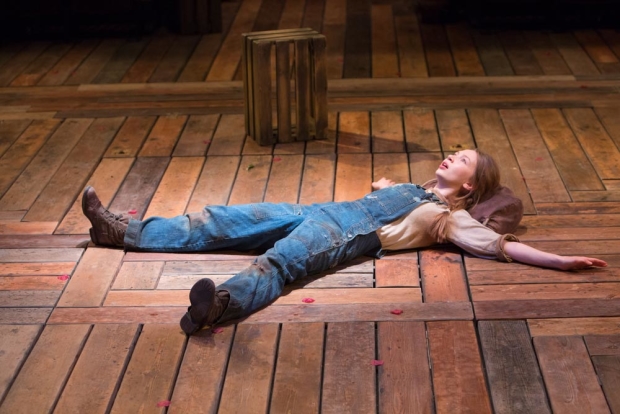 When the Everyman launched its first full season as a company last year it kicked things off with a musical, Fiddler On The Roof. It seemed an apt choice to show off an ensemble cast's varied skills – and had clear parallels with the modern day. Does theatre always have to be relatable? Let's hope not, but this is the Everyman after all. So when a musical rolls around you expect it to have a little edge.
On that basis 1951 Lerner and Loewe musical Paint Your Wagon might not be an obvious choice. It gives the cast plenty to do, but director Gemma Bodinetz says she pored over the text to wring something meaningful out what looks like a story about some men who like gold.
Chief among them is gold prospector Ben Rumson (the dependable Patrick Brennan), who strikes it so lucky that he manages to buy not just his own town but a wife to boot. Meanwhile the miners are spending more time digging his daughter Jennifer (Emily Hughes) than gold, so she's sent packing to Boston to learn how to be a lady. But not before she falls in love with a dispossessed Mexican.
If Paint Your Wagon seems strikingly forward-thinking in its blithe portrayal of interracial love, its sexual politics are rather less progressive. When a Mormon family arrive – Richard Bremmer, Keddy Sutton and Emma Bispham having a whale of a time – the show's protagonist orders up a swap: a wife for some mining gear, with the lucky lady going to the highest bidder. Later Rumson sells her on again when he finds himself broke and his town reduced to single figures. Most of the audience laughed but some seemed unsure of what to make of it.
Eventually, having taken the wheels off the wagon, Ben can't resist the lure of the gold – leading to a third rendition of "Wand'rin' Star" that might leave some wishing for one final, brutal winter to ensure there isn't a fourth. Indeed, Paint Your Wagon is in no rush to get to the gold and both acts are rather slow to get going.
The real quality is in performances that see the company swapping roles, clothes and accents in portraying up to four characters each and doing it convincingly. Clearly some are more accomplished singers and dancers than others but the rough edges add to the frontier-town charm. Such is the topsy-turvy nature of Paint Your Wagon that some of the more polished performances actually jar: a little more Hollywood than rural California.
But the company is solid, tight and joyous. And there are many nuggets to enjoy: Bremmer almost manages to upstage his fellow performers with his eyes, while Sutton seems unable to be on stage without eliciting delighted chuckles. Atop a proscenium arch an in-house band provide a convincing and entertaining soundtrack.
Depending on your outlook Paint Your Wagon might be winsome or trite. And the gender politics are a puzzle on the Everyman stage, but this production doesn't really attempt to tackle it – Bodinetz seemingly happy to chalk it down to one of those things. Frankly, that's probably for the better. Trying to force some clunking metaphor out of Paint Your Wagon would obscure the fact that it is unapologetic, thigh-slapping fun. It doesn't quite strike gold but it does glister along the way.
Paint Your Wagon runs at the Liverpool Everyman until 14 July.