Octopolis at Hampstead Theatre – review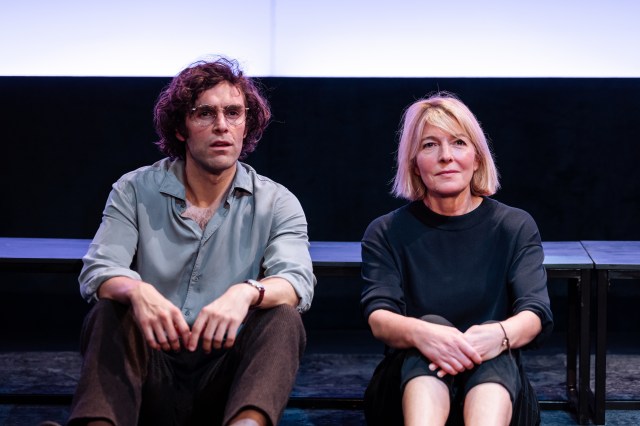 In 2010, the world went crazy as they followed the football World Cup results that were casually being predicted by Paul, a German Common Octopus. The intelligence of these most alien-looking of sea creatures has long been known, although none really foresaw such oracle-like qualities as Paul. In Marek Horn's new play, we not only listen in on a fascinating debate around the potential intelligence of an octopus but also on its emotional sentience along with its possible spiritual needs.
Frances is the cephalopod under the microscope and lives in a university campus aquarium that sits within the living quarters of married professors John and George. "There were three people in our marriage, three people and 12 legs," tells the now-widowed George to her unannounced visitor as he disturbs her and Frances' shared, grief-stricken isolation.
Of course, as fascinating an education about octopuses as this undoubtedly is, it is George and new arrival into her life, anthropologist Harry, that are really under the microscope. As Harry invades George's seabed-like squalor to disrupt her depressed existence, a game of who's-watching-who begins as a rapid-fire sparring of wits and intellect dive and propel through the murky waters of grief, spirituality and admiring love.
Harry's shifting motivations are given exuberant life by Ewan Miller as he freely dances his way into George's life. Miller has an engaging charm that draws the audience into his wordy speeches around the existence of God and the anthropological study of Jemma Redgrave's academically sturdy but emotionally stunted George. If humans can – and need to – create gods with their one brain, is it too much to consider that other species, especially ones that have three brains, can do the same? It's a terribly unacademic theory and conflicts with every single one of George's scientific bones and as the question hovers, is Frances sentient enough to pray and to grieve, the bigger question really should be: is George sentient enough to pray and grieve?
Horn's cerebral writing is fascinating to listen to and in the hands of Redgrave and Miller, it powers through the 100-minute (no interval) running time at a rapid nautical pace. The text is as vivid and lucid at times as it is baffling at others, but it is never dull. Horn never allows the undulation of the shifting moods and motivations to lapse in his writing as George engages with her personal loss and feelings in an ever more visceral way. As she searches for consciousness in Frances, she discovers it in herself in a far more revelatory way. Redgrave is on fine form here, even if she does look less than comfortable dancing to David Bowie.
Anisha Fields has created a simple design in Hampstead's intimate Downstairs space, dominated by a pulsing screen that represents Frances' aquarium – we never see so much as a tentacle of our eight-legged third character though, only ever suggested by clever use of smoke and light.
As we explore the "interspecies shared experience", it is clear that equally interesting is the shared experience of the same species – after all there are no two humans that are anything like the same. An engrossing night with some superbly observed performances from Redgrave and Miller.