Re-Member Me at the Hampstead Theatre – review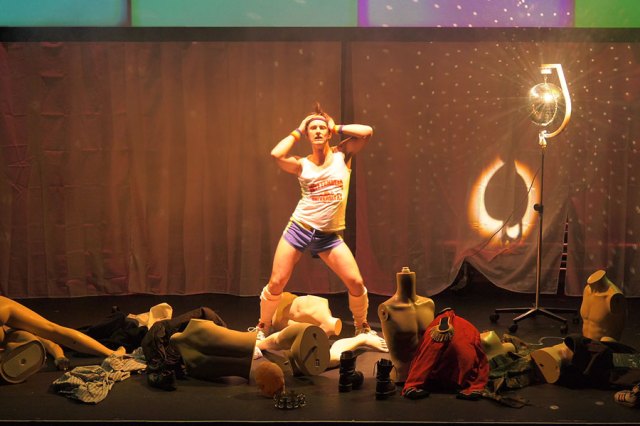 Profundity and high camp are not necessarily mutually exclusive – just ask any practising Roman Catholic – but they do make unlikely bedfellows. They reach an apotheosis in this highly original solo show which simultaneously deconstructs and mythologises Shakespeare's
Hamlet
while celebrating and com
me
morating a selection of the artists who have interpreted what is arguably the most revered play in the English language.
Created by, and starring, writer, actor and "intrepid drag fabulist" Dickie Beau,
Re-member
Me
is a fascinating concoction of multi
me
dia performance art, tribute, and theatrical seance. Constructed from a series of interviews with illustrious figures such as Ian McKellen, Richard Eyre, Sean Mathias and others, who reminisce and pontificate about the play from the point of view of artists who have played, created and/or witnessed nu
me
rous iterations of it, spliced with recordings of hallowed Hamlets including John Gielgud, it finds the essence of Shakespeare's play and channels it through a glittering Queer prism.
We get disco classics, Yentl references, dressing up, backstage gossip, plus the spectre of AIDS in the less enlightened final decades of the twentieth century. Got up like a personal trainer on acid and ar
me
d with a selection of dis
me
mbered mannequin limbs, a paperback copy of
Hamlet
and a disco ball on a hospital drip stand, the fabulous Dickie Beau lip syncs the majority of the show in a Herculean display of physical discipline and wit, while a quartet of giant projected versions of himself look down on it all adopting various comic attitudes of exasperation, indifference and benevolence. It's a lot to take in, especially in a running ti
me
of little over an hour, but it's hypnotic and compelling, even if occasionally impenetrable.
One can't help but wonder if a slightly extended performance length might elucidate the whole project a little. Dickie Beau and his co-devisor Jan Van Den Bosch appear to subscribe to the ethos of always leaving your audience wanting more. That's fine except that in this instance, to make this a fully satisfying experience, we maybe NEED a little more, not least because Beau is such engaging company.
Inevitably there's a certain amount of the play itself quoted here but, interestingly,
Re-member
Me
feels most potent when it's in
Hamlet
-adjacent territory, such as late-life state
me
nts from Gielgud on mortality and the sense of absenting oneself from the carnival of life, or the astonishing story of how an AIDS-afflicted Ian Charleson, at the very end of his mortality, found it within himself to take over as the Dane from a traumatised Daniel Day-Lewis in the late 1980s National production.
As a eulogy to the late Charleson, and to his Gertrude, Sylvia Syms, who died earlier this year, it's startlingly moving. The stories told reveal a kindness and generosity of spirit in the latter that may not have been im
me
diately discernible by outside onlookers, and a tragic heroism in the for
me
r. There are so
me
fascinating insights as well as self-deprecating humour in the testimonies of McKellen, Eyre et al.
We don't hear Dickie Beau's actual voice until late in the show…prior to that, his entire performance is clowning of the highest order, and a long lip sync to all the iconic actors and creatives he's honouring. At the risk of incurring the wrath of
RuPaul's Drag Race
aficionados and their friends, I always had my doubts that lip syncing was really that much of a skill…until seeing this. Beau proves, with tender magnetism and sheer irrepressible stage craft, that lip syncing is an art form to rival the highest levels of dance and clowning. He is
me
s
me
rising: detailed, extre
me
ly funny and, when he needs to be, absolutely heartbreaking.
It's a rollicking good ti
me
but it's thoughtful too, eventually becoming a sobering
me
ditation on mortality, legacy, artistry and storytelling; the changes in mood and tone are handled brilliantly.
Hamlet
is an enduring classic, a fact borne out by the fact that two of the most acclai
me
d plays currently on either side of the Atlantic (the exuberant Broadway hit
Fat Ham
and the National's acclai
me
d
The Motive And The Cue
) riff extensively upon it, although neither of them are perhaps as unique as
Re-member
Me
. A rather lovely side effect of experiencing this brief but dazzling theatrical kaleidoscope is that it leaves you with an overwhelming urge to watch a full production of Shakespeare's
Hamlet
.