My Top 5 Showtunes: Damian Humbley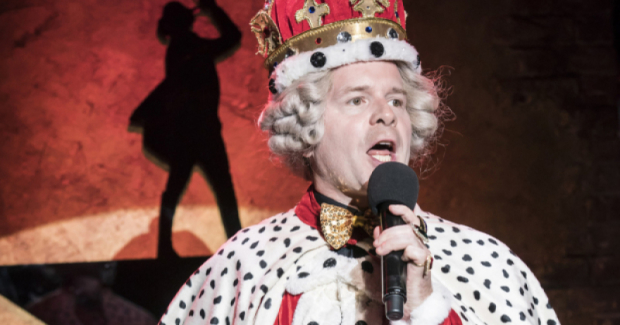 Damian Humbley's stage credits include Merrily We Roll Along (Menier and West End), Hedda Gabler (Salisbury Playhouse), Songs for a New World (St James Theatre) and Forbidden Broadway (Menier).
He is currently starring in Spamilton at the Menier Chocolate Factory, Gerard Alessandrini's spoof on Lin-Manuel Miranda's hip hop musical Hamilton.
We caught up with Damian and asked him: "If you were stranded on a desert island which five showtunes could you not live without?"
---
1. "Good Thing Going" from Merrily We Roll Along
The simplicity of this song makes it one of my favourites. Using the theme that constantly shows itself in one form or another during the show, as it tells the story of a relationship falling apart, echoing the story of Frank and Charley.
2. "Poor Child" from Wild Party
I could listen to this quartet over and over again. Its idea pulled from Verdi's Rigoletto, is dark and moving in its storytelling of four different character's points of view.
3. "Race You to Top of the Morning" from The Secret Garden
In this song, Archibald is telling his son why he has to go away, in the form of a bedtime story. When I saw Anthony Warlow in the '95 Australian cast of this, it was that show/story/performance that inspired me to do this for the rest of my life.
4. "Evermore Without You" from The Woman in White
My first job out of university was performing in China in Masterpiece – The Music of Andrew Lloyd Webber. On our opening night (in Beijing), a few of us were up late with (Sir) Andrew around a piano, as he played us a song from a new show he was developing… coincidentally, four years later, I sang that song every night in my first job in London.
5. "Somewhat Overindulgent" from Forbidden Broadway (and The Wizard of Oz)
Besides the beautiful source material (Somewhere Over The Rainbow), Gerard wrote this 'Mandy Patinkin' number for Forbidden Broadway in 2000… and I struggle singing and listening to it, because it's DAMN FUNNY!