Maimuna Memon: A creative on a mission to rebrand music theatre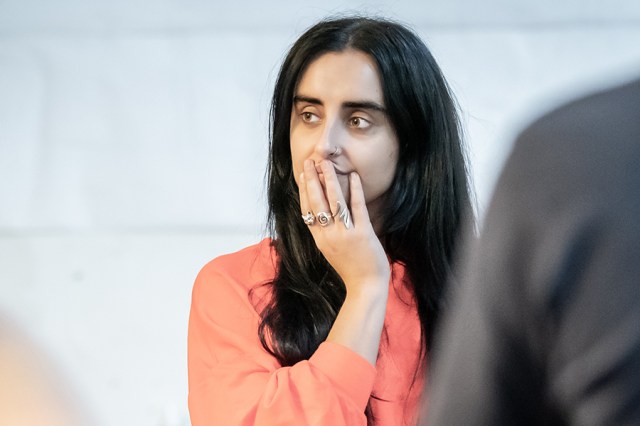 Actor, composer, lyricist, writer, musician – Maimuna Memon has tackled many aspects of the creative carousel over the last 18 months, and each of them in a markedly distinct way. From picking up an Olivier Award nomination for her assured turn in the award-winning Standing at the Sky's Edge, through to winning critical adulation for her hit show Manic Street Creature (first seen at last year's Fringe), she is playing to audiences of all sizes with stories of both epic and intimate scale.
She now returns to the Almeida to pen new music and lyrics for Carrie Cracknell's revival of Marina Carr's Irish classic Portia Coughlan, a tale of a tormented family torn apart by long-dead ghosts. The text was first staged in 1996 at Dublin's Abbey Theatre and has revived frequently since – a 2022 version starred Denise Gough.
But this new creative opportunity was one Memon couldn't pass up, she explains, and for a variety of reasons: "I love working through things that come both from my brain and a brief, and what's brilliant with a brief is that it opens up a world of possibilities. There's so much material in Carr's text."
It also spoke directly to Memon, half-Irish on her mother's side: "I spent a lot of my time in rural Ireland – I connected to the subject matter, and the landscape, and the people in the play. It reminded me a lot of my Irish family. There are so many musicians on that side of my family, going back generations – and music is such a big part of Irish culture. I feel that in my blood – so when I read the play I could already sense the musical landscape. Marina's work is so full and poetic that it brought out so many ideas immediately."
But the presence of Cracknell also drew Memon to the revival, as it was Cracknell's staging of Simon Stephens' Birdland, starring Andrew Scott, at the Royal Court that, during her first year of drama school, galvanised her as a creative – "I was just blown away by so much – it was one of the shows that inspired me to make."
You can watch Memon and performer Archee Aitch Wylie tackle a tune from the show here: 
I moved onto a recent Genesis panel at the National Theatre, where Memon spoke eloquently, passionately and practically about innovations and growth within the musical theatre space. As someone well-versed in both the large-scale productions like Timothy Sheader's open-air Jesus Christ Superstar or the Bowie musical Lazarus, as well as more intimate shows like the five-star Fringe First-winning smash Electrolyte, she can see the context from a whole plethora of angles: "On our first performance of Electrolyte we had seven people in the audience. But we were giving everything every day – flying, pushing and gigging, until the Scotsman came, five-starred us and we completely sold out. It was a surreal experience of word-of-mouth and audience connection coming together in such an incredible way. People still talk about that show today, but it was a huge moment for me and my composition work."
Her career has therefore allowed us to see just how multifaceted the notion of a musical, or music theatre, can be: "There are these big massive musicals, but there are so many subgenres in between. Obviously the glitzy musicals have their place, but there's also space for edgy, beautiful, character-driven pieces. Sometimes I think people are afraid to call their shows music theatre, for fear of alienating certain parts of an audience. But musicals don't need to be 16 people in a big ensemble, or a huge band in a pit. It can be five actor-musicians, – or three actor-musicians like Manic Street Creature – there are so many different versions of what musicals can be."
While a lot of attention is paid to the commercial nature of musicals, Memon stresses that "there has to be space within subsidised theatre – safe space for shows to evolve and be labelled musicals, rather than plays with music."
If composing for the Almeida wasn't enough, Memon will also be performing Manic Street Creature in Southwark from 19 October. It's a blisteringly powerful and deeply personal piece for Memon, exploring questions not simply of mental healthcare, but also the welfare of those supporting anyone grappling with mental health issues: "It was a big challenge for me, but the response was surprising and moving – it was an exhausting month, but also such a creatively rewarding thing. For people to respond to the subject that way reinforced how important it was for that story to be told."
As for what's next for Memon, who knows – maybe a rest, maybe even more excitement – we'll have to wait and see.