What is the future of British musicals?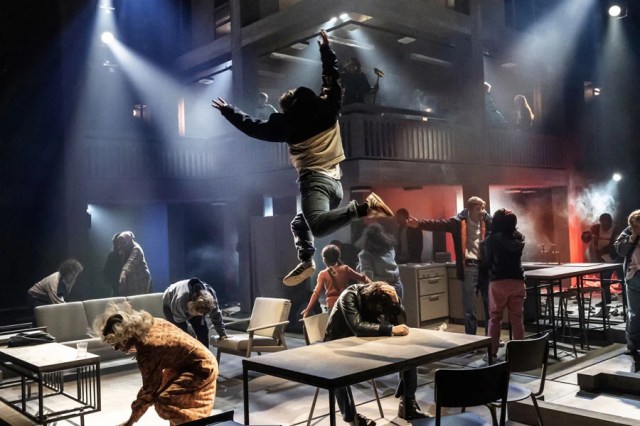 What is the future of the British musical?
It is such a mammoth topic that only the tip of the iceberg could be discussed in the hour and a half's Genesis Conversations at the National Theatre last week, when a group of two-score industry representatives gathered to consider the issues around the art form, moderated by the venue's artistic director Rufus Norris.
One aspect that formed the heart of last week's debate was the inextricable links between commercial producers and subsidised spaces (such as National Portfolio theatres like Sheffield Crucible or Chichester Festival Theatre). Shows that were initially conceived by commercial producers (recent examples include Everybody's Talking About Jamie, Standing at the Sky's Edge, and though not a musical but very much acting like one, My Neighbour Totoro), all came to be widely successful through commercial and subsidised partnerships.
But the system is far from perfect. It is quite telling that the biggest UK musical export of the last decade, Six, started life when a group of commercial producers picked it up from the Edinburgh Fringe (two of those very same producers were overseeing workshopped productions of a new show by the same writers, Toby Marlow and Lucy Moss, on the very same night as the Genesis event). Norris even admitted he passed on the opportunity to go and see Six when it was still in student form.
Six feels like the exception, rather than the rule – and a number of the big musicals currently on UK shores have been shipped in from abroad. The National Theatre's director even stated that musicals are taken more seriously over the Atlantic: "I think it's fair to say the US have respected this form a lot longer than we have, and that has everything to do with why they are so much better than us at doing it."
Tali Pelman, the group creative managing director at Stage Entertainment, which has steered Tina – The Tina Turner Musical to global success, pinpointed both the successes, challenges and the requirements for the continued growth of the partnership between subsidy and commerce: "How do we really join the dots? Usually what happens with a commercial producer is that they will approach a regional venue or a subsidised venue, when something is semi-cooked, and they want to grow it in the right, protective way. This is a sensible, safe approach… but that isn't the true collaboration. Instead, it's each party bringing a certain function to the development of shows.
"I think what is the dream is something like what happens at the National Theatre Studio – but where commercial producers are brought in much earlier – so artists and producers can work together, and producers can spot talent. We're always looking for talent and we need to find a place where that talent can grow, without putting the limiting factor of commercial work on them too early."
Pelman said that, when she was growing her career as a producer of plays at venues in London, there was "so much space to take risks" in the late 1990s and early 2000s. "This space has to happen in the subsidised arena, for writers to develop their voice."
Norris acknowledged that there needed to be a more direct link between work created in the National Theatre Studio (a hive of new activity) and that presented on stages.
What was striking, by listening to a passage of Maimuna Memon's Manic Street Creature (opening this autumn in London, with Memon also a star in Standing at the Sky's Edge), is that the nature and form of "the musical" has continued to evolve and develop. Now, we can have immersive musicals, gig theatre shows, verbatim musicals beatbox musicals, plays with songs – all falling under the same moniker. It's this innovation that feels the most exciting. It breeds new audiences and converts the sceptics. For this art form to thrive, we need to make sure audiences know what a musical can be, rather than what they expect it to be.
One frontier is the birth of the Birmingham Hippodrome's new musical theatre department – with the venue open to any and all conversations in order to find future talent.