Maggie Smith and Derek Jacobi celebrate Acting for Others Golden Bucket award winners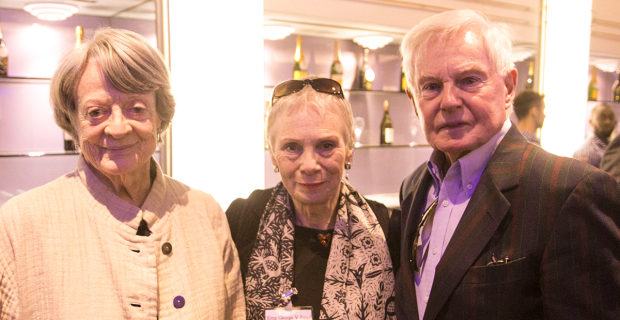 The winners of the 2018 Golden Bucket Awards have been announced.
Pioneered by theatrical charity Acting for Others, the awards celebrate supportive fundraisers and important figures in the theatrical fundraising community.
The awards were held at the Prince Edward Theatre, hosted by Carl Mullaney. Presenters included Maggie Smith, Ben Forster, Hannah Waddingham, Cleve September, John Patridge, Danielle Hope, Tracie Bennett and Derek Jacobi.
Acting for Others is an umbrella organisation representing 15 charities that offer financial and emotional assistance and support to those in the entertainment profession who have fallen on hard times.
The full list of winners is:
IT STARTS WITH A SPEECH
This award is for those that made the speech night after night and made a huge impact during the Bucket Collections in 2017.
Winner: Ashley Day for An American In Paris
TOUR DE FORCE
This award goes to the theatre group or touring production that have excelled in fundraising across the country and for encouraging their companies to participate and make our all-important speech.
Winner: ATG
FABULOUS FUNDRAISING AWARD
This award is for the most inventive way of fundraising for Acting for Others.
Winner: Sophie Simms for West End Bake Off
TTT TOP TWEETER AWARD
This award goes to someone that has gone wild on social media with selfies, images, videos, boomerangs, live streaming and always a making noise about our campaigns.
Winner: Harriet Thorpe
WHERE WOULD WE BE WITHOUT YOU AWARD
So many people in the industry help to ensure the theatre collections are successful and they actively promote the collections throughout their companies – they are Acting For Others' 'go to'.
Winner: Steve Hayes at The National Theatre
SUPERSTAR AWARD
This is the award for someone that has gone above and beyond with their support for Acting for Others.
Winners: David O'Reilly and Alex Lodge from The Book of Mormon
THE REGIONAL GOLDEN BUCKET AWARD
This is the regional theatre that raised the most in the 2017 theatre collections.
Winner: The Wipers Times and The Yvonne Arnaud Theatre
THE GOLDEN BUCKET AWARD LONDON
This is the London theatre that raised the most in the 2017 theatre collections.
Winner: The Book of Mormon raising over 40K