Il trittico (Holland Park)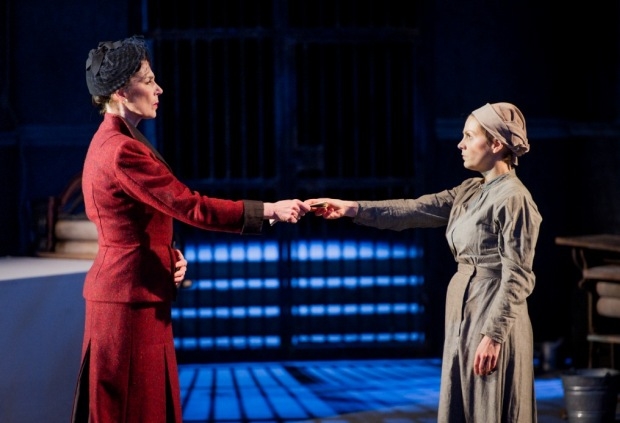 That first hour is always a problem at Holland Park. The grounds are still open to roaring boys, it's daytime so stage lighting goes for nothing, and the instruments of the splendid City of London Sinfonia haven't yet warmed up. When a show begins 30 minutes earlier than usual and happens to be a complete opera whose crucial moments take place at night, it's likely to find itself up the creek.
Not on Michele's barge it isn't, at least not in Martin Lloyd-Evans's rough-hewn production of the merciless one-acter that opens Puccini's trilogy. Yes, Il tabarro takes a while to get going, with Puccini's atmospheric noises off receiving a helping hand from the footballers outside, and Richard Howell's lighting is bleached out by mother nature during the opera's midnight murder; but the tightly-told tale still works its nasty spell thanks to Stephen Gadd's marvellously sung bargeman, Jeff Gwaltney's burly stevedore Luigi and Anne Sophie Duprels as the smitten "sgualdrina", Giorgetta.
Duprels, whose OHP Butterfly remains by some distance the best I've seen, ever, also sings the title role in Suor Angelica, the middle part of Puccini's triptych. The French diva's voice may lack a layer of sugar-icing but she is one of the most convincing and engaged singing actresses working today, and Puccini's tragic novice shows her at her best. It doesn't hurt that an imperious Rosalind Plowright spars so fiercely with her as La Zia Principessa — a worldly, wealthy and entitled figure — nor that Oliver Platt's superficially straightforward direction of the piece is in truth humanistic and political. This is a convent where nuns are brutal, novices are naïve schoolgirls and the name of God is weaponised to keep the inmates in check. Platt's brave finale contains no redemption, only an end to suffering.
Neil Irish's ingenious designs for all three operas are developed from a single adaptable wall, its inset arches filled in Gianni Schicchi by the detritus of old man Donati's lately-lived life. It's a completely new set for the revived 2012 production of this divine comedy, but the production within it (by Lloyd-Evans, restaged here by Platt) is recognisably the same. It benefits from the return of William Robert Allenby as Simone and Chloe Hinton as La Ciesca, along with Simon Wilding's sleazy fag-ash Betto and an irresistible Anna Patalong as Lauretta, reprising her tender account of 'O mio babbino caro'.
The newcomers are all top-notch, as is everyone in the evening's huge and expertly cast company. James Edwards, an Italianate tenor of the first order, is sturdy and ringing as Rinuccio, while Richard Burkhard is as perfectly cast a Schicchi as he was mere months ago as Opera North's Figaro. He's an expressive, lyrical baritone with a comic gleam that's never far from his eye — or his voice.
As so often, the hero who pulls the evening together is the incoming music director of Scottish Opera, Stuart Stratford. It's one of life's puzzles why Covent Garden, say, will happily turn to second-rate foreign conductors yet ignore the immense talent on its own doorstep. That fact is equally true of directors and singers too, so it's a tribute to Opera Holland Park that alone among London companies it is prepared to give the capital a taste of what the rest of Britain takes for granted.