I Found My Horn (Trafalgar Studios)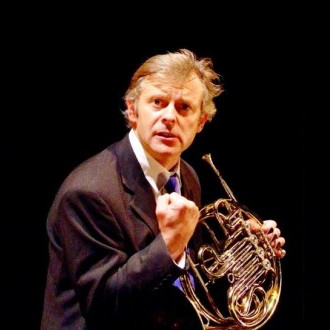 The mid-life crisis with its affairs, expensive cars and leather trousers is miles away from Jasper Rees' I Found My Horn where Rees, played energetically by Jonathan Guy Lewis, deals with his divorce and subsequent crisis by taking up his old French horn after 31 years.
And not just that; following a day of playing his instrument (badly) at the British Horn Institute he sets himself a task – he will, in a year's time, play a horn solo to the whole institute.
Along the way he meets a range of characters, all beautifully voiced by Lewis whose vocal dexterity is impressive. He fluidly switches from a Yorkshire accent to a Czech one, from Midwest American to German and effectively draws each character using just one physical tic, be it Minnesota horn player Betts' screwed up eyes, Herman the German teacher's hunched shoulders, son Daniel's teenage slouch or orchestra master Cartlidge's bemused smile. This piece feels inhabited by a wonderful range of characters thanks to Lewis' energy and the engaging nature of the tale.
Of course it's manipulative, but knowingly so. Like an 80's film it's awash with music telling us how to feel, with both the "Hallelujah Chorus" and "The Ride of the Valkyries" making an appearance. This being said, it's a play about music so there's bound to be rather a lot of it. Plus when Lewis actually plays the horn you forgive the earlier more obvious tricks; a spotlight on his face as he listens to a youth orchestra; and giving voice to an inanimate object – you know they're manipulating you but they do it with "heart and soul and passion".
It's not a complex piece of theatre, nor does the urge to learn the French horn last much past the house lights going up but, as Lewis says in the play: "you just got to enjoy the ride".