Hatched 'n' Dispatched (Park Theatre)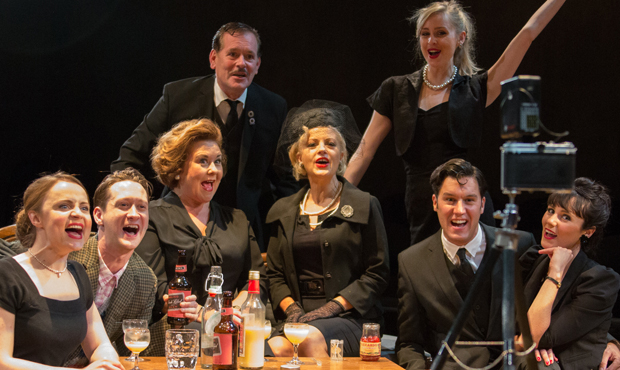 Who'd have thought that two London productions in the same season would open with a Nat King Cole song, and that one of them would be Hamlet? The other is this spiky little slice of family life by Gemma Page and Michael Kirk, and the song is "Unforgettable."
It's not really a song title I could use to describe the show itself, but there are pleasures to be had, notably from a leather-lunged Wendi Peters (aka Cilla Battersby Brown in Coronation Street) as the straight-talking materfamilias who holds the ring at a gathering of the clans after a double-booking at the church for a christening and a funeral.
That's the "hatched" and "dispatched" side of things; the missing "matched" in the middle is ironically unspoken as the marriages on view are buckling under the strain from old animosities and the sound of skeletons rattling in cupboards.
Kirk, who also directs, bases what he calls "a mucky romp through the morals, memories and music of the 1950s," on his own boyhood experience in Derby, where he eavesdropped on family and patrons of the Railway Institute while putting on puppet shows. He certainly has a good ear, and most of what the characters say, and the way they say it, sounds plausible, even if there's little colouring or idiosyncrasy to distinguish them one from the other.
Anyone could raise a laugh for instance, on a line like, "Who threw all the pickles down the stairs?" but as it falls to Wendi Peters, she makes double sure it gets one. There's a state of mix-up all round: Uncle Arthur's ashes have jumped out the urn and down the front of somebody's suit, furtive naughty sex is on the cards and one of the tribe has been away with prostitutes.
It's not exactly J B Priestley, but there is a sense of a small town community on the brink of a new era, and the familial tensions remind you of the more carefully patterned and soberly written plays of David Storey.
And it's quite fun to be close up and personal in the smaller Park 90 venue with Peters and her brood, who include Diana Vickers as a flaky daughter, Vicky Binns as a devastated partner, the wonderful Wendy Morgan as the stoically tight-lipped widow in a veil and pill box hat and Kevin McGowan and Matthew Fraser Holland as a pair of male malefactors.
I'd gone along expecting a musical, but after that short burst of Nat you'll have to make do with references to Percy Thrower (the first television gardener), Fanny and Johnnie Cradock (pioneering television cooks; Fanny's also referenced by Gyles Brandreth in his new show) and the astonishing assertion that "Elvis isn't a patch on Cliff."
Hatched 'n' Dispatched runs at the Park Theatre until 26 September.