From Here to Eternity to be broadcast at 250 UK cinemas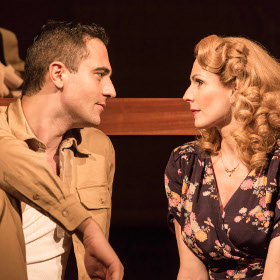 Tim Rice's musical From Here to Eternity will be broadcast in over 250 cinemas across the UK and Ireland on 3 July 2014, to coincide with the anniversary of the Oscar wins of the original film.
The show, which closed at the Shaftesbury Theatre in March following a six-month run, was filmed across two nights for the release, and the programme will also include a tour of the theatre and an interview with Tim Rice.
From Here to Eternity, which is adapted from James Jones' 1951 novel which was turned into an eight-time Academy Award-winning film, features lyrics by Rice, music by newcomer Stuart Brayson and a book by Bill Oakes.
It follows the lives and loves of a group of soldiers stationed on the Hawaiian island of Oahu in 1941, before and during the Japanese attack on Pearl Harbour which led to the US engagement in the Second World War.
It stars Darius Campbell (formerly Danesh) as Warden, Robert Lonsdale as Prewitt, Rebecca Thornhill as Karen, Siubhan Harrison as Lorene and Ryan Sampson as Maggio.
Tim Rice said of the cinematic release: "I am delighted that our ambitious musical version of this magnificent story is going to be available to cinemas across the UK. It's an epic tale with a score to match so it's fantastic that our version will get a big screen release."
For more information and to buy tickets, click here