Death and The Ploughman (Arnos Vale Cemetery, Bristol)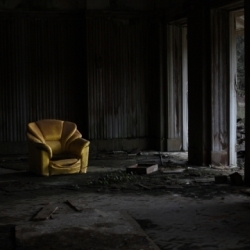 Arnos Vale Cemetery in Bristol is certainly an attraction in its own right, a work of art that commemorates the dead buried within it in opulent and glorious ways. So it's an ideal location to stage Death and The Ploughman, Johannes von Saaz's 14th century meditation on death, life and humanity, which takes its audience on a promenade journey high up into the heart of the cemetery.
It's a fine idea from director Tom Bailey and he is helped by a strong, simple, highly creative design by Chris Gylee and lighting designer Josh Pharo who invoke, in a range of sets dotted around the locations, a range of visual artists, most notably Salvadore Dali, in one set with its cluttered dream imagery full of twisting angles.
Unfortunately, dramatically it's slightly more inert. At two hours it feels convoluted, the debates between Death (Helen Millar– strong of voice and presence) and the ploughman (Paul Rattray– whose strong accent made it hard to hear the whole thrust of his argument) gradually begin to feel repetitive and the concentration begins to waver by the end of the evening.
It's not helped by the walk between each location and set, the paths under-lit and with little atmosphere, even with the help of a community choir, who, when they are not singing Verity Standen's choral songs, seem to be working on tidying up the cemetery, like they're here as part of a community service remit. These longeurs mean that the play never gains real momentum; each scene has to start again in drawing us in and it never quite achieves this.
Which is a shame, as when it works it creates an atmosphere that is difficult to recreate in a theatre. When the doors of the chapel burst open and the choir first enter singing, the hairs rise on the back of the neck; it is a haunting image that etches on the mind. There is intelligent work going on from a talented creative team, but Death and The Ploughman is just that – intelligent without gripping or moving. One should applaud the ambition if not fully the execution.
Death and the Ploughman plays until 30 March.
– Kris Hallett