Catherine Love: 'Interaction does not always mean choice'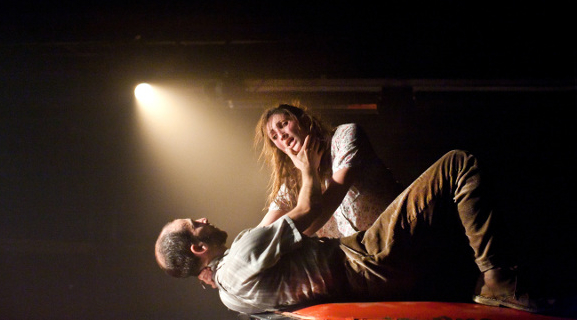 Like writer and Dialogue co-director Maddy Costa, interactive theatre used to terrify me. The slightest whiff of audience participation sent me running in the opposite direction, desperate to return to the anonymous peace and quiet of a seat in a darkened auditorium. So it's strange to think that in the last couple of years I've held hands with strangers, been "arrested" on the streets of Hoxton, debated about the founding of a new nation, climbed into bed with a performer and shared my childhood memories all in the name of theatre.
There's still a slight ripple of anxiety somewhere in my stomach when I'm expected to get involved, but it's one that I've learnt to enjoy rather than avoid. I'm looking forward to that nervousness and anticipation gripping my insides once again this weekend as I throw myself into Talking/Making/Taking Part, Dialogue's festival at Ovalhouse. The two days are about "making stories together" and about spending some time in a space somewhere in between taking part in theatre and taking part in wider society. If we're able to act in the former, can we take action in the latter?
The claim that greater participation in the theatre can lead to greater participation in the world is a big one – and one that's difficult to prove. Even within the frame of theatre events, interaction does not always necessarily mean agency and choice. As theatre critic Lyn Gardner discussed in a recent blog, interactive performances often encourage audience members to play by the rules, remaining within the boundaries of the event. In some cases, as in Punchdrunk's shows, those who break the rules are chastised or even removed. We can participate, but only in ways that the theatre-makers have predetermined.
This feeling of exercising a small portion of freedom within set limits is a familiar one. When taking part in an interactive performance, I often have a childlike desire to be a "good" audience member, to dutifully hold up my end of whatever theatrical contract has been instigated. On occasion I've felt like mischievously pushing at the boundaries in place – while participating in an immersive version of The Trial, for instance, I asked persistent and increasingly unpredictable questions of the "authorities" who were prosecuting me within the fictional world – but I've never quite broken them down.
Perhaps the most interesting thing about participatory theatre, however, is the questions it asks of us as audience members. Of course, all theatre asks questions. But in interactive theatre the emphasis falls more heavily on our answers – or, indeed, our failure to answer. The difference is that staying quiet and hiding away in the dark becomes a choice rather than an expectation; our passivity and desire to follow instructions is itself a kind of action. And the best interactive performances – the ones that have slowly converted me – make theatre into a genuine conversation.