Tipping the dresser, audience snooping and more things you didn't know about theatre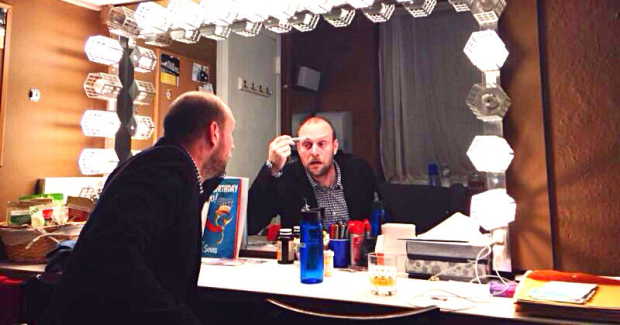 Yesterday, we asked Twitter for some things that are commonplace in the theatre industry that the public generally don't know about. The results were enlightening to say the least, so here's nine of our favourite responses.
---
1. Tipping the dresser
Tipping your dresser.
— Leon Kay (@leonrkay) July 30, 2018
Leon Kay (
Billy Elliott
,
Les Misérables
) claimed that at the end of each week on a show, or venue on a tour, he would tip his dresser. "It's a respectful thank you" he says, adding "This person, manages your sweaty clothes, underwear, sometimes hangs your clothes up for you at the end of an evening, may fill your water bottle up for you if you don't have time. All sorts! Legends!"
2. All you need is an empty space
We don't rehearse on the set.
— Eleanor Rhode (@elrhode) July 31, 2018
Contrary to popular belief, the stage upon which you are watching the show take place, is not where the show was rehearsed, according to director Eleanor Rhode (
Boudicca
). Playwright Jon Bradfield expanded on this saying that productions don't audition 'on the stage of a darkly lit West End or Broadway theatre as they do in movies.'
3. Shows are like a swan
Eg. Wardrobe slip a new dress over your head at the split second that you step back to let a fellow actor sprint past in front of you, before lifting up your right leg to have a shoe placed on it, as you grab a prop and hand it to an actor as they lurch onstage.
— Lucy Eaton (@lucyeatonmess) July 31, 2018
Graceful above the surface but kicking like bad below. Actress Lucy Eaton (
The Resistible Rise of Arturo Ui
) thinks audiences might be better off watching what goes on backstage than onstage sometimes. Who knew a quick change demanded such synchronicity?
4. Stop the clocks
That the half hour call is a actually 35mins.
— MsRHayes (@Bobberty_Bobs) July 30, 2018
Deputy Stage Manager @Bobberty_Bobs posted to inform us that 'the half' is all a lie. Director Damian Sandys (
The Kite Runner
) elaborated, claiming that "whenever a show goes up late, it's usually because it's waiting for the audience not the other way round!"
5. You're late!
That the running time is often read out after every performance and getting 1 minute off it feels like a big WIN.
— Nick Allen (@nickallentenor) July 30, 2018
Tenor Nick Allen let us in on a secret that, while you might bemoan the length of a show, the performers are doing their darndest to ensure it comes down on time. Cabaret star Le Gateau Chocolat went one further saying: 'and then pointing out who was milking whatever if the show was longer!'
6. Understudies, under-prepared
Understudies are usually not rehearsed until after press night!
— Eleanor Crosswell (@EJCrosswell) July 31, 2018
Understudies have been in the news a lot recently (HT Steph Parry, Jennifer Caldwell and co). And to add to our awe of these heroes, actress Eleanor Crosswell (
I Won't Make It On My Own
) suggests that understudies don't get to rehearse the roles they're covering until after the show has opened. So fingers crossed for no bouts of preview flu.
7. They can hear you…
The tannoy usually stay on at the interval.

So…….we can hear you!!!
— s a b r i n a a l o u e c h e (@sabrinaaloueche) July 30, 2018
Actress Sabrina Aloueche (
Les Misérables
,
We Will Rock You
) made us think about all the times we've perhaps not been kind about a show during the interval. Apparently you can be heard on the backstage relay, so be nice people.
8. And they can see you…
As an addition to this, we sometimes have monitors for the chorus and chorus master, and obviously it's set to the view of the conductor…my favourite view for this reason… pic.twitter.com/V4yMLeFgDx
— Mel Jingle (@jinglewho) July 30, 2018
Adding to the last one, Mel Jingle – a lighting apprentice at the Royal Opera House – shared a highly amusing image of a man caught sleeping on the front row – at least we hope he's sleeping.
9. Erm…
That a sitzprobe isn't a gynaecologist's surgical instrument.
— Teresa T (@riverdancefan) July 30, 2018
Sitzprobe: In opera and musical theatre, a sitzprobe (from the German for seated rehearsal) is a rehearsal where the singers sing with the orchestra.