Review: The Tempest (St Paul's Church)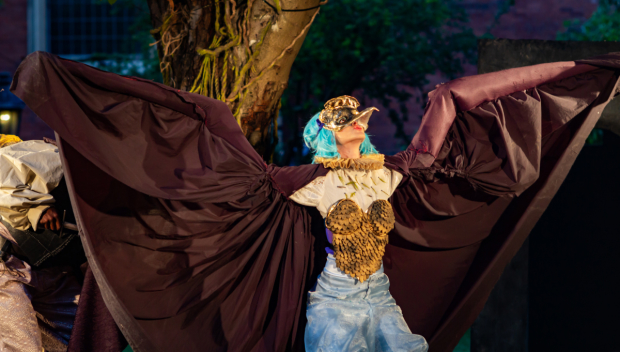 St Paul's, the actors' church in Covent Garden, is a beautiful setting for The Tempest. In this promenade production from Iris theatre company, much of the action takes place outside in stunningly planted gardens, where Mike Leopold's multi-tasking sets blend sympathetically into the natural landscape. Together with the work of lighting designer Benjamin Polya, these create some stirring effects for the scenes of shipwreck and spells.
One of the hazards of performing outdoors in London is noise from elsewhere. In the first half at least, the cast are fighting with a raucous show going on in Covent Garden square. Their voices are not amplified, which in many ways is a good thing, but it can be difficult to distinguish key speeches.
Prince Plockey is a standout figure as Caliban, with a powerful physical presence and a controlled combination of rage and passion. His 'Be not afeared' speech is one of the few that produces the tingles this play should deliver. He's also a sly and persuasive Antonio.
The feathered, bird-like Ariel, played by Charlotte Christensen, creates much of the show's magic with her flute and delicate songs. Her gauzy costumes, by Anna Sances, are one of the show's highlights.
Jamie Newall's Prospero is a commanding figure, but his relationship with Miranda (Joanne Thomson) seems to lack the true warmth they would surely share after so many years of virtual solitude. His final parting with Ariel goes by with scarcely a flutter, though the forgiveness of his traitorous brother does carry weight.
Miranda's lovestruck suitor Ferdinand is given a bright and youthful energy by Linford Johnson. He also conveys a chilling sense of deadly peril during the impending shipwreck that opens the play.
Sadly, in this production many of the natural laughs are lost or missed. However, Paul Brendan as Trinculo and Reginald Edwards as Stephano do create a hugely entertaining scene of drunken squabbling and physical scrapping as the castaways demolish their supply of spirits, and introduce Caliban to the bottle.
The Masque that celebrates the young couple's betrothal takes place inside the church, and the roof projections immediately create a magical feel. This is then duly crushed by the frankly feeble costuming decisions that follow.
Thought to be Shakespeare's last play, The Tempest is mercurial, poignant and magical, but despite some brave performances, Daniel Winder's production does not entirely capture its energy or its vital spirit.