Review: The Storm Cycle 1: Nothing Remains The Same (National Theatre Wales)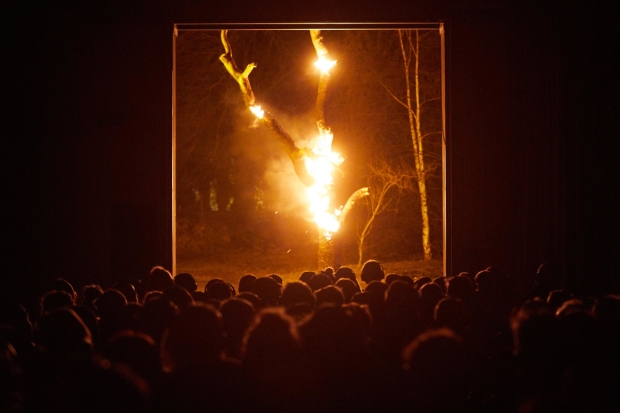 These are tempestuous times. To meet them, National Theatre Wales' interdisciplinary duo Mike Pearson and Mike Brookes will create a series of six shows dotted around the entire country over three years. Driving towards a large-scale theatrical event in 2020, its shape as yet unknown, The Storm Cycle is a kind of performance sketchbook. Each piece will, in its own way, explore the nature of turbulence.
To start, they turn their attention to antiquity – as they have done before. In the past, Pearson and Brookes have restaged the Persian wars in a military model village and Coriolanus' Roman riots in a cavernous RAF hanger. This time, it's Ovid and his Metamorphoses. The first storm brings chaos to the sleepiest of villages in rural west Wales. "The time has come to tell how things change into other things."
In a drill hall style space in Pontrhydfendigaid, we're plunged into pitch black; only the voices on our headphones for company. The first, soothing and male, talks us through Ovid's creation myth: how "primordial soup", "a shapeless heap of stuff", coalesced into being. With wind whistling through our ears, a whole world stirs into being – until "in walks man".
It is a marvel, this world, but Pearson and Brookes frame human history not as a story of progress, but of escalating violence. Charting the rise of various races – golden, silver and bronze – they tell of humanity imposing itself, taking up arms and ransacking resources. As the story crescendos, a storm starts to build – not in our ears, but around us. You feel the sound reverberating through your body: rain swelling into white noise, creaking clouds and cracks of thunder. It's hypnotic, like sitting inside a timpani, and it ushers your brain into a blur.
The second half, softly narrated by Aimee-Ffion Edwards, retells the myth of Phaeton: Ovid's hubristic charioteer who rides off, blazing, into the sun. Starting with two brothers, not yet men, in a playground they've outgrown, flicking matches and broiling beetles, it charts the destructive – and often self-destructive – impulses of mankind. Against a backdrop of fiery crackles and blistering pops, Edwards conjures the hot breath of horses as they pound through the sky, building to the moment Phaeton smoulders back to earth, scorching deserts into being and charring human skin.
As she does, a wall rises to puncture the darkness: a blackened tree eaten up by hellish flames, its trunk silhouetted against its own fiery form. It's entrancing – your eyes bewitched by dancing, fizzing, furious orange flames – and it's horrible; catatonically and unshakeably so. An image that burns itself into your brain.
Written with a soft pulse and flair, combining the tactility of Dylan Thomas with Kate Tempest's contemporary twang, Storm One is nonetheless self-contained. Both myths speak of the power of entropy; stability being rare, even precious, but dull. Together, they tap into the timbre of our times – the sense of hurtling momentum that slips out of control – but they also touch on environmental concerns; the edge of apocalypse contained in origin myths. The form, which drowns out speech with sensory overload, be it sound or sight, suggests the loss of rationality and clarity – as if the world intrudes on and overpowers our thoughts. The flip of that is that, once over, it's hazy; a sense of a sense of a sense of a show. An intriguing start then, that suggests something's brewing.
Storm 1: Nothing Remains the Same runs at Pafiliwn Bont, Pontrhydfendigaid until 17th February. Storm 2: Things Come Apart will run in Cardiff 21 to 24 March.