Under Milk Wood (Theatre Royal, Plymouth)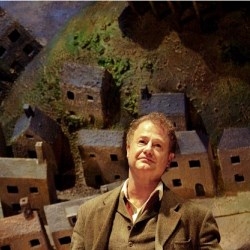 Mellifluous and meticulous – which is just what we may have predicted from a combination of Dylan Thomas and former RSC director Terry Hands.
Under Milk Wood, the Welsh poet's play for voices, is beautifully understated with Hands allowing the language to paint the picture of the sleepy village of Llareggub.
Clwyd Theatre Cymru are on tour with the Dylan Thomas Centenary Production with 11 Wales born and bred actors evoking the reality behind that deceptive façade.
Owen Teale (Stella, Game of Thrones) is on pace and not at all overpowering (as can easily be the case) as First Voice merging into the background when others pick up the tale in cameo roles.
Populating the stage with some 60 characters, the omnipresent versatile ensemble, dressed in beige and cream – all the better to blend – assume the myriad characters with consummate ease. And clearly there is much more than 'llareggub' taking place here.
Unfair to pick out anyone in particular but Hedydd Dylan makes an endearing loose woman and a dead-husbands-nagging Mrs Ogmore-Pritchard; Sophie Melville is filthily sexy as crystal-ball gazing Mrs Dai Bread Two and a feisty Mrs Owen delighting in her husband's drunken antics while Caryl Morgan (Being Human, Pobol y Cwm) is beguiling as kiss-me-quick Gwennie and never-been-sweet young Mae Rose Cottage frolicking in the clover ready to explode.
Steven Meo (High Hopes, Grownups, Belonging) milks every ounce of slapstick as Sindbad, Nogood Boyo and toilet-hopping Willy Nilly while Richard Elfyn (Killer Elite, The Dark, SOS Galw Gari Tryfan)'s prospective poisoner is excellent.
Too many to mention but all high-quality stuff.
Martyn Bainbridge's set is simplistic – a swooping curve and a couple of chairs transport the action from pub to farm, harbour to shop. And an aerial view of the village set on a disc acts as backdrop with a sun tracking its way around the edge keeping track of time.
Delightful.
– Karen Bussell