To Wong Foo The Musical at Hope Mill Theatre – review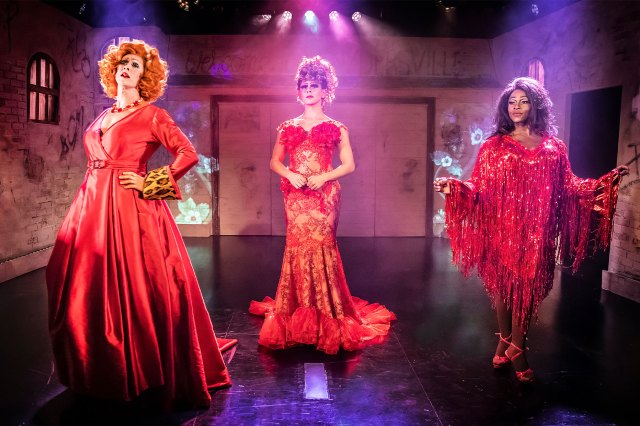 Like the three gorgeous drag queens at its heart, To Wong Foo The Musical is on a journey. But where Vida Boheme, Noxeema Jackson and Chi Chi Rodriguez are traversing the USA in a beaten-up cadillac having won a Hollywood trip in a NYC drag competition, Douglas Carter Beane and Lewis Flinn's stage adaptation of the 1995 movie, which starred an unrecognisable Patrick Swayze, Wesley Snipes and John Leguizamo, is presumably after a further West End and Broadway life. It deserves to achieve it too, subject to some fairly substantial cosmetic work being done.
The show starts off brilliantly, with the drag competition, presided over by Theo Maddix's authentically fabulous glamazon Rachel Tensions and featuring an absolute belter of an opening number, the full company dancefloor earworm "Feel The Light" which almost stops the show before it begins, and is clearly intended to be To Wong Foo's answer to Kinky Boots' "Sex Is In The Heel". After that, a certain sense of anticlimax kicks in from which the show never quite recovers.
The plot is remarkably similar to that of Priscilla Queen of the Desert, which predated it by a year, with much of the comedy and drama deriving from the trio of urban gender illusionists pitted against the less sophisticated denizens of various rural backwaters. As represented here, the contrasts between drag fabulousness and small-town Americana are remarkably non-abrasive. Sure, the ladies come across a certain amount of macho or religious-based resistance but the good people of Nowheresville USA soon come around after a bit of singing and some sequinned shimmering. It just feels a bit easy, and the sense of threat is curiously underdeveloped.
Carter Beane's book has some gloriously funny one-liners but could up the savagery several notches. Good-hearted Vida (Peter Caulfield, delivering really classy work) talks Gregory Haney's delightfully world-weary Noxeema into letting histrionic Chi Chi (Pablo Goméz Jones) hitch a ride across America far too easily. Similarly, when they come up against Duncan Burt's bigoted Sheriff or Lee Harris's wife-beating car mechanic, there's insufficient danger. For the joy (of which there is plenty), to really soar, it would benefit from being thrown into relief against some convincing darkness.
The nearest we get to that is in the performance of Carolyn Maitland, a consistently fine singing performer apparently incapable of ever hitting a false note either musically or dramatically, who invests abused wife Carol Ann with a stark emotional depth that cuts through the fluff but at present seems at odds with all the camping about going on elsewhere. Similarly, far more could be made of the unlikely bond between the fierce Noxeema and Susie Fenwick's mute Clara Pearl, who turns out to have an unexpectedly encyclopaedic knowledge of Black Hollywood stars.
Caulfield is a real treat, his enchanting Vida pitched halfway between a screen siren and Rose from The Golden Girls. He gives her an irrepressible joie de vivre but a core of steel, the kind of formidable charmer you'd definitely want to stay on the right side of. The script doesn't give the characters much room for introspection, but Caulfield's creation feels like a fully rounded human being underneath the frocks and layers of makeup. Haney is equally sensational as been-there-done-that Noxeema whose withering putdowns are a masterclass in comic timing. Again though, Haney finds a vein of humanity there that enriches the characterisation.
If Goméz Jones fares less well, Chi Chi has weaker, less specific writing than her travelling companions, being required to burst into tears regularly, deliver a bit of low-level snark and send the confused menfolk into an erotic tailspin (as with Leguizamo in the original movie, Goméz Jones is almost indecently ravishing as a girl). Unlike Priscilla or Kinky Boots, we never get to see the men out of drag.
Lewis Flinn's songs are an appealing, if generic mixture of soft rock and country. Aside from a rather lovely, heartfelt act two duet for Carol Ann and Vida, the aforementioned "Feel The Light", and the uplifting "It Will Be Beautiful" finale, with the entire company decked out in spangled scarlet, it's not especially memorable. However, it does work, especially as played by Andrew Hilton's exquisite three-piece band. It's poppy but theatrical.
There are a few missed opportunities though: a number started by Chi Chi as they hit the road looks like it's going to develop into a full-throated trio for the leads but peters out to nothing, and Vida's cri de cœur first half closer ends the act with a whimper where it needs a bang. I presume budgetary constraints are behind the lack of what looks like a real car (we get a neon-edged box with seats and a steering wheel) but having the four wheels as a 1940s style close harmony girl group ("I can't wait to hear these tires sing" trills Vida) is an entrancing solution, sadly abandoned after act one.
For all the extravagance and originality of Gregory Gale's costumes, the carefully curated ecstasy of Jane McMurtrie's high-energy choreography and the efforts of a hardworking cast, this feels like a work-in-progress rather than the finished article. There's so much to enjoy here already, one can only hope the creatives find the wherewithal to push through and turn it into something really special. At the moment, she's pretty…but she could be beautiful.