The Merchant of Venice (Shakespeare's Globe)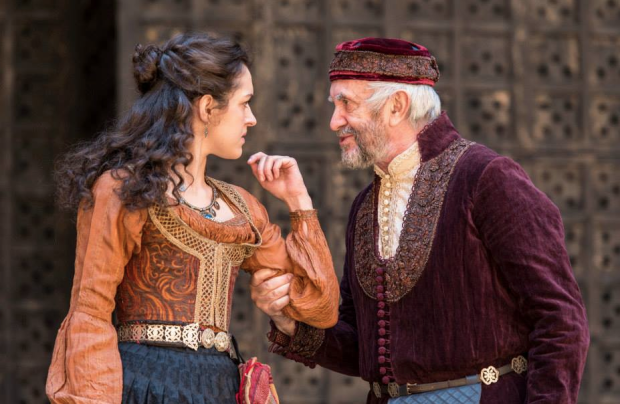 We know where we're going when, at the opening Venetian carnival, two Jews are kicked to the ground and spat upon, shortly followed by Gratiano rushing on to puke into a bucket. And Belmont – gentle wafts of music at the first mention of the place – is where all the ugliness is forgotten and resolved, where Portia finds happiness at last.
Jonathan Munby's production – which features a bearded, beady Jonathan Pryce as Shylock and his lustrous, dark-haired daughter Phoebe Pryce as his rebellious daughter Jessica – touches the extremes of all this, but the extremes are social analysis; the play, it's worth repeating, is not anti-Semitic but about anti-Semitism.
"The devil can quote scripture for his business" is something we can say of any religion, and Pryce's Shylock, a volatile but anxiety-ridden money-lender, accused of lowering the rates of usury in an already corrupt market, is pushed to living by the aggression that comes his way first: "the villainy you teach I will execute." It's Antonio (Dominic Mafham), the merchant, who needs the loan and then grabs him by the throat.
Pryce isn't as feral and blistering as he used to be, but he still burns like hot coals and speaks beautifully, engaging Jessica in a furious Hebrew altercation that is echoed at the end when, after he's been stripped of his lands and condemned to off-stage Christianity, he's brought back in a baptismal ritual of revenge. They did the same thing to Al Pacino on Broadway, but that was more brutally conducted, with lots of heaving, coercion and head-dousing.
Everyone has had unreasonable conditions placed on his or her behaviour either by authority or jealous loved ones; the exchange of rings scene in Belmont can be a bore, even if love is in the air, but it's here done in a way to genuinely resolve the terms of romantic engagement.
Portia (a willowy, febrile, elegantly expressed Rachel Pickup) is subjected to her dead father's trial by caskets in the suitor scene. The ejected Gobbo (a lively Stefan Adegbola) enacts his critical suspension between the fiend and his conscience by hilariously enrolling two members of the audience to play those medieval morality characters.
And the poetry comes through loud and clear even on a chilly night under the clouds. This is the play where the quality of mercy is not strained, a distant candle shines like a good deed in a naughty world, and all that glisters is not gold. Designer Mike Britton has placed a steely wall of panels on the stage which allows for all locations and works particularly well for the two trial scenes.
The first is for the suitors while Portia stands on a golden podium, surviving the ridiculous scimitar-waving claims of Morocco (Scott Karim) and the mincing, mangled Hispanic histrionics of Arragon (Christopher Logan); the second is the "pound of flesh" melodrama which is done less rabidly than in the Almeida's "Merchant of Vegas" last year but still disturbs in its sudden switches of argument and valedictory.
Pryce is superb in this scene, deaf to the pleas of humanity but caged in his own justifiable resentments, torn between stabbing and sobbing, killing and kvetching. Now he's clear about what's happening, then he's not so sure, even baffled and bemused. It's a powerfully original Shylock in a revival that boasts a fine Bassanio in Daniel Lapaine and re-focuses the role of Gratiano (David Sturzaker) as a really good one.
The Merchant of Venice runs at Shakespeare's Globe until 7 June 2015. Click here for more information and to book tickets.