The best and worst pantomimes of 2017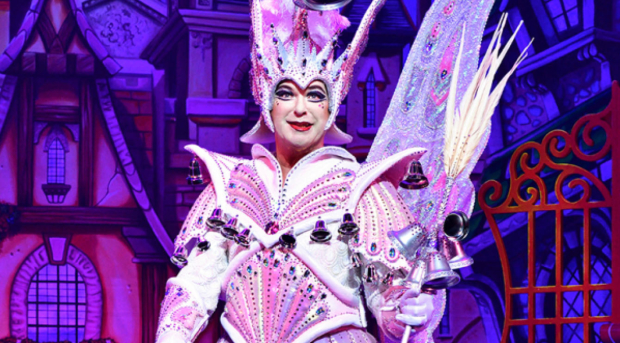 ★★★★
"I can confirm that unless you're an absolute prude you will leave the show having guffawed your face off. Julian Clary is the crowning queen of the show as he struts his caustically funny stuff in Hugh Durrant's increasingly outrageous costumes (at one point he comes on dressed as posh London department store Liberty).
Paul Zerdin warms the crowd up well, although his core audience interaction piece – where he makes two members of the public become his personal dummies – definitely feels like he's using plants. Diversity and their remarkable moves are magnificent – I'd say they generally get too little stage time."
Dick Whittington runs at the London Palladium until 14 January.
---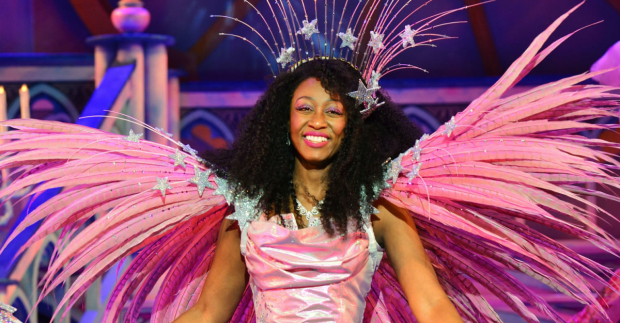 Cinderella, Birmingham Hippodrome
★★★★
"It's the first panto for Wolverhampton songstress Beverley Knight, whose previous roles include The Bodyguard, Memphis the Musical and Cats. And Knight has proved to be a real find for the show as not only does she bring star quality to the songs but she's also a fun and lovable Fairy Godmother.
"First staged at London's Palladium last year, the show, directed and produced by Michael Harrison of Qdos Entertainment, has been re-written to ensure its relevance to the new cast, to current news and to Birmingham. So the Strictly humour features Debbie McGee, there are Theresa May and Donald Trump allusions and there are lots of jokes which only the locals will understand – even Birmingham City Council's recent industrial dispute with its refuse collectors is given a mention!"
Cinderella runs at the Birmingham Hippodrome until 28 January.
---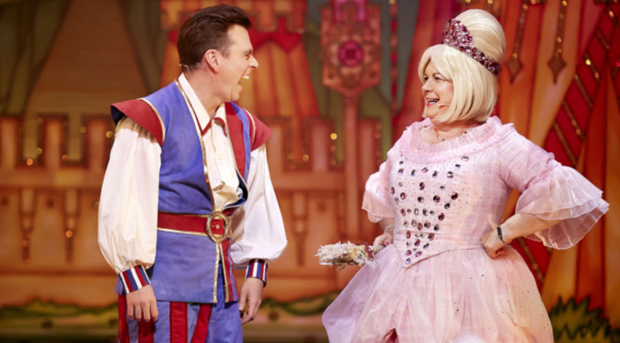 ★★★
"Elaine C Smith is a Glasgow panto institution, and she plays up to her own self-parody as Fairy Bella. She does it well enough, though I question some of the things she is given to do, such as a very random Adele impression, and a bizarre turn as a country and western singer.
"The thing that won me over most, however, was that most intangible thing in a Christmas show: atmosphere. Coming into the lovely theatre, which I'd never been to before, there were carol singers in the balcony and crowds of kids bursting with excitement, all of whom found the jokes hilarious, putting my misanthropy in its place. "
Sleeping Beauty runs at the King's Theatre, Glasgow until 7 January.
---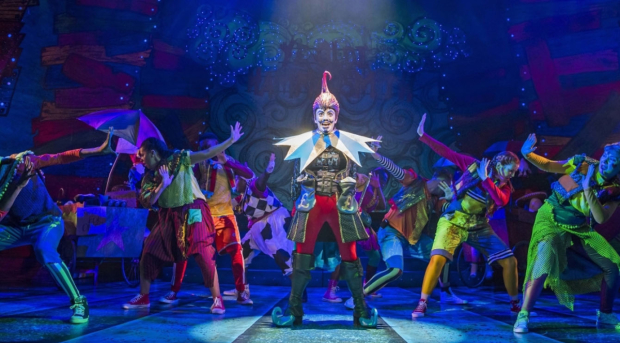 ★★★
"There's lots for the little ones to love in Christian and Holmes' production. Jean Chan's design is an eye-popping tapestry of primary colours and flashy costumes – giant vegetables, talking cows, etc. The classic routines are all here too and, mercifully, they're not done to death either."
"Vikki Stone's Fleshcreep is a delight, as is Kayla Meikle's Daisy – to mood-killingly lacklustre – Kraig Thornber phones in Dame Lotte. It's a good panto, but far from a great one."
Jack and the Beanstalk runs at the Lyric Hammersmith until 6 January.
---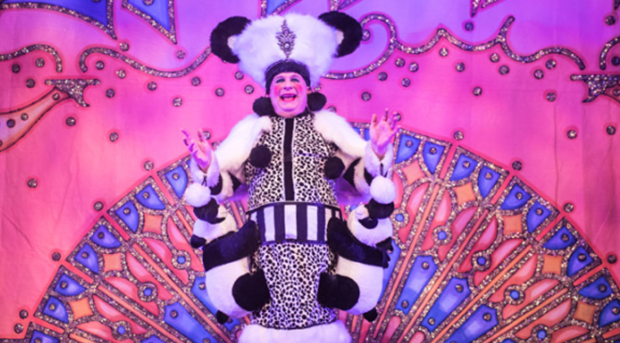 Aladdin, Richmond Theatre
★★★
"I find Christopher Biggins' Dame a bit matter-a-fact, but he has some good moments; Rikki Jay works fantastically hard and gets brilliantly through the evening's longest comedy set-piece, unloading a shopping trolley laden with puns about chatting up a woman he has met.
AJ Jenks is an attractively straight-forward Aladdin and Bob Harms a gleeful Abanazzar, whose name is never pronounced properly by anyone who uses it. There are real and metaphorical fireworks thrown in, and a really magical flying carpet."
Aladdin runs at Richmond Theatre 14 January.
---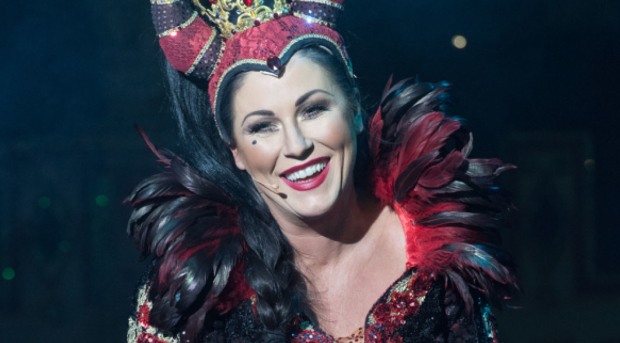 ★★★
"The main poster girl is former EastEnders star Jessie Wallace, who sneers and stalks the stage with aplomb as Queen Lucretia, complete with horned head-dress and clouds of smoke accompanying every entrance."
"Some of the story's ostensibly most dramatic moments – like the eating of the apple, and Snow White's awakening – seem a bit rushed. But this show isn't too fussed about the fairytale's narrative. It's lavishly produced – so smooth, in fact, that it runs the risk of feeling a bit too formulaic."
Snow White and the Seven Dwarfs runs at the Churchill Theatre, Bromley until 31 December.
---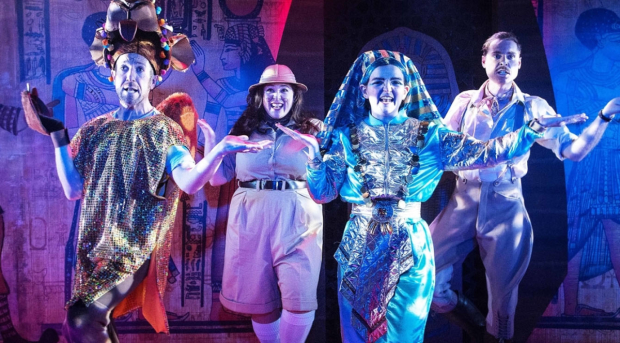 King Tut, King's Head Theatre
★★★
"The show is boosted by sun-drenched lighting design by Nicholas Holdridge, a splendidly glittering set from Sean Turner, and Mia Wallden's fabulous costumes – with a special mention for the superb armchair that has a unique life of its own. With plenty of fart jokes and lots of familiar pop songs, this is a show that's evidently aimed at young audiences as well as older ones who like their festive panto a bit fruitier."
King Tut – A Pyramid Panto runs at the King's Head until 6 January.
---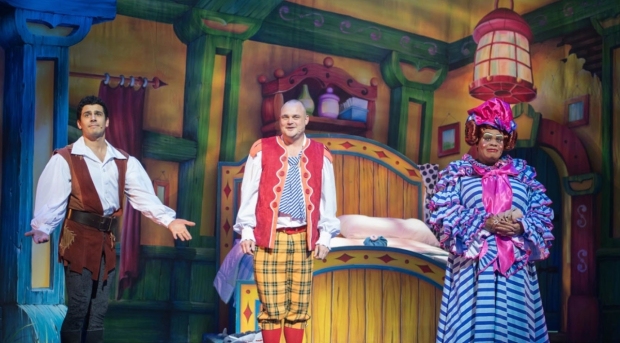 ★★★
"Al Murray warms the audience up with a little of his Pub Landlord set – his subversive portrayal of the anti-foreign, England-loving hard-man is reined in a little, but there's enough here to satisfy the parents in the audience. His delight at being on stage in panto is palpable and he has a fun kooky rhythm, which keeps the full age range with the action throughout."
Jack and the Beanstalk runs at New Wimbledon Theatre until January 14.
---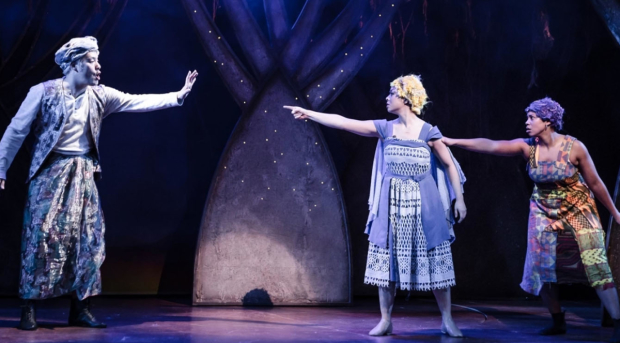 Rapunzel, Theatre Royal Stratford East
★★★
"It's all very enjoyable, but it gets a little predictable. And though there are a strong range of songs – from grime to ska and full-blown pop – but they just aren't that funny, or that hummable. Even the usually raucous audience interaction scenes were unsatisfactory. Essentially, it's a panto that lacks bite – something that's usually on proud display in this theatre at this time of the year."
Rapunzel runs at Theatre Royal Stratford East until 13 January.
---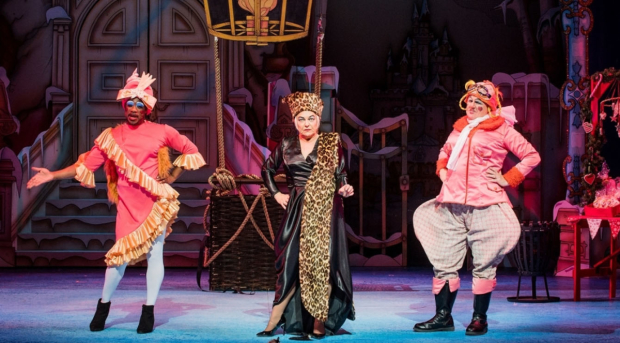 ★★★
"This is the 20th year Susie McKenna's taken the helm in Hackney and, frankly, it's starting to show. That Cinderella is the soupiest story in panto's pot doesn't help, but there's a lot lacking this year: topicality, bar a fly-by Donald Trump cameo; local colour, but for stray shout-outs and a horse called Clapton; and, well, Clive Rowe. Hackney's home dame has defected – to Wimbledon. It takes his Ugly Sister successors, Kat B's Victiqua and Tony Whittle's Queeniqua, a good hour to sneak in with a double entendre."
Cinderella runs until 31 December.