Review: White Teeth (Kiln Theatre)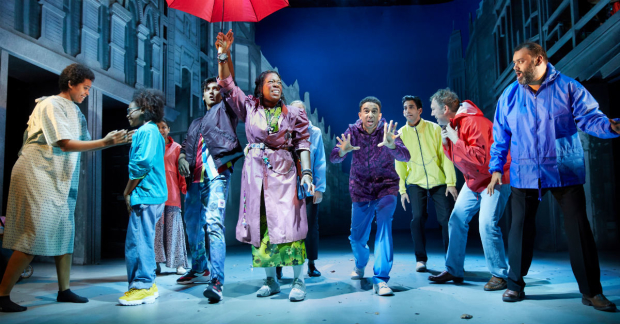 It's sometimes difficult to decide why a theatre has decided to adapt a novel for the stage; with so many great plays knocking around, it's hard to see why transposing literature into drama is worth the effort.
But in the case of the decision of the Kiln Theatre to adapt Zadie Smith's 462-page debut, the logic is entirely clear. Smith's dazzling, multi-narrative novel was inspired by her native Kilburn. The High Road we see on stage in Tom Piper's design is the high road outside the window. This is a theatre literally reflecting the life around it, the tensions, pleasures and strange collisions of a multi-cultural community, a "melting pot where nothing's melted" as one character puts it, adding "It's all just kinda stuck together at the bottom in a gooey mess."
What is harder to understand is why playwright Stephen Sharkey has decided to turn what is a subtle, vivid comic novel into a broadbrush cartoon, introducing a new central protagonist who has the story of her life explained to her while she is in a coma, and thus further complicating an already complex story. Or why anyone thought that Paul Englishby's cheery songs, which vaguely conjure the styles of the '80s, would add anything more than a superficial joviality.
This is a show that is trying so hard to please that it ends up losing its way and its tone – crucial signifiers to the unexpected truths about modern life that Smith originally, so forensically, revealed.
None of which is to criticise an absolutely superb cast who, without exception, give it their all and bring to the production infinitely more light and shade and pure enjoyment value than it really deserves. Nor to Indu Rubasingham who directs with flair and energy, keeping things moving at a pace (though on opening night, the running time stretched to 2 hours and 50 minutes, which is at least 30 too long).
There are scenes that give you a hint of what a good show this might have been, in a less loud and loose conception. At one point, the two leading families (the Iqbals, with their origins in Bangladesh) and the Joneses (a mixed race couple who meet at a party to mark the end of the world) find themselves at a PTA meeting peopled by the classic collection of North London liberals. Michele Austin is briefly liberated from the thankless role of Mad Mary (the street seer and crazy) to lead the meeting with tones dripping with condescension when Samad Iqbal (Tony Jayawardena, magnificent) asks why on earth they celebrate harvest festival.
There's a nice moment in the Irish pool hall, run by an Arab, and without pool tables, where Samad and his friend Archie Jones, order their full English breakfasts and the conclusion, where radical Islamism and dangerous science collide in breakneck comic mayhem is brilliantly handled. There are also some lively dance routines (courtesy of Polly Bennett), particularly one in brightly-coloured kagools in the 1987 hurricane.
But Smith's points about the dangers of different types of uniformity and different prejudices go for very little, as does any characterisation that actually might make you care. The result feels flat. A real missed opportunity.