Review: White Pearl (Royal Court)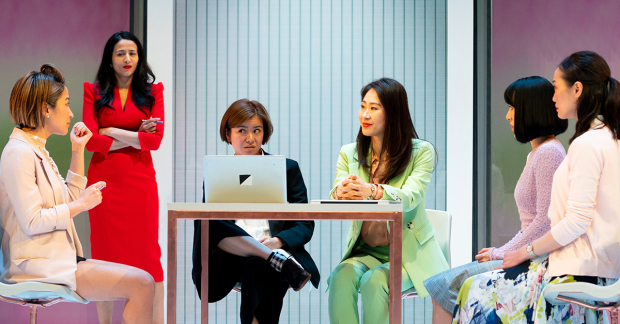 There are so many reasons to want to treasure White Pearl, for its rarity value alone. It's a play about the cosmetics industry. It's a satirical comedy about race. It features a cast of six women from Pan Asian backgrounds. It is written by Anchuli Felicia King, a woman of Thai-Australian descent, and directed by Nana Dakin, a Thai-American.
All of those things are so precious and unusual in the theatre landscape, that I want to love this play – and they do mean I forgive it many of its failings. But the fact of the matter is that although it has wild energy, and is full of sharp and devastating observations, it doesn't quite land either as comedy or as satire. It is too broad and noisy to hit its targets – and not quite funny enough.
Nevertheless, it gets bonus marks for brio – and for a glossy set from Moi Tran (beautifully lit in pink and peppermint hues by Natasha Chivers) that perfectly conjures the Singapore office of the fictional cosmetics company Clearday (Clear and Bright) where the action is set. When the play opens, panic is already breaking out. An advertisement for a skin-whitening product called White Pearl has been leaked on the internet and instantly branded racist. Views are climbing to the millions. Disaster threatens.
The escalating crisis gives King a chance to explore the issue of intra-Asian racism – the way that the Chinese, Japanese, Korean, Indian and Thai backgrounds of the women doesn't so much bind them as mean they see the world in different ways. It also offers an opportunity for broad swipes at the relationship between Asia and African Americans; in one of the most telling scenes the South Korean Soo-Jin Park (Minhee Yeo) suggests that the company shouldn't apologise for an advertisement that paints black skin as bad, because Asian customers won't be offended by jokes at the expense of the black community.
Underpinning all of this is the sheer shock of the idea that skin lightening products are so popular and the implication that notions of success are so directly linked to the emulation of white models, not only in beauty products, but also in their espousal of global capitalism and wealth as markers of arrival.
King has a strong and sharp voice. She's particularly good at catching the way a problem becomes a crisis in the world of social media; the comments that scroll down an onstage screen between scenes are clever and pertinent. But the mechanics of the plot which involve a pathological blackmailing French boyfriend (Arty Froushan, making an impressive stage debut and the most of a thankless task) are rudimentary and unlikely.
The production also suffers from being so loud and shouty; even in farce, you need quieter moments and not many are provided here. In this setting, the actors seem to be encouraged to over-act, which makes it hard to care about their fate, though I did enjoy Kae Alexander's swagger as the spoilt little rich girl, Kanako Nakano as a terrified office manager, and Momo Yeung as the weepy misfit, terrified of being sent back to China.
Her subplot, about a father under investigation for corruption and life under surveillance, is almost completely thrown away. Like the play as a whole, it feels like a missed opportunity. King is clearly a writer to watch, but she hasn't quite found the measure of her aim here.