Review: Vanessa (Glyndebourne)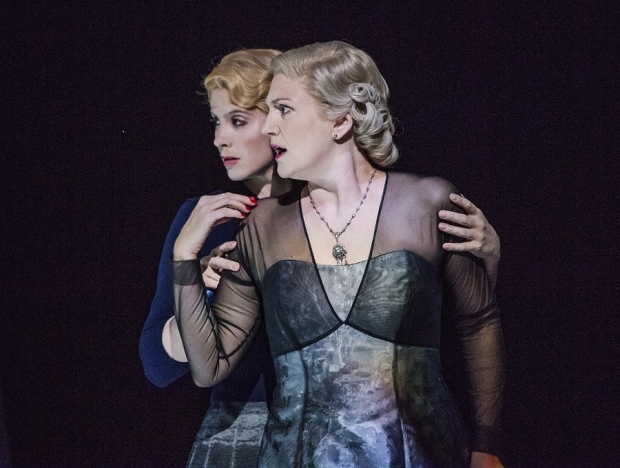 I'll tell you what's wrong with Vanessa: the title. In Samuel Barber's opera the pivotal role is not the titular delusionist who waits like Miss Havisham for the return of Mister Right, but her confused young niece whose life is turned upside down by the arrival of a certain Anatol. This opera should be called Erika.
Whatever its name, it's a hauntingly dark piece that had the misfortune to be born into the wrong era – as far as Europe was concerned, anyway. Music in the 1950s belonged to the intellect, not to purveyors of melody or emotion, both of which overflow in Vanessa. It's a domestic affair of the heart, set somewhere in the cold amorphous north, in which Vanessa's house guest turns out not to be her long-lost lover but his son, who happens to share the same forename.
Director Keith Warner has long wanted to direct Barber's opera and he fills the Glyndebourne stage with its mysteries and symbols, its naked simplicity and its murky depths. Early on he plays a joker: Vanessa has a flashback to a remembered birth – but whose? There are three possibilities: her niece Erika is actually her daughter, the young Anatol is actually her son, or the baby didn't survive. As for the father, it can only be the late Anatol Sr. While all this is a director's conceit, there is nothing in the libretto by Gian Carlo Menotti (the composer and Barber's life partner) to gainsay it.
Along with this hint of Sophoclean incest comes an idea – a sense, nothing more, driven by physical similarities – that Vanessa, her niece Erika and her mother the Old Baroness (the latter sung by Rosalind Plowright on fabulous dowager form) are all facets of the same character at different stages of life and enlightenment. The old woman refuses to speak to the younger ones when they lie about their circumstances, so perhaps she herself has lived through more than we know.
Warner's production invites these and other questions but never lets them intrude upon the enjoyment of an aesthetically sumptuous experience. Near-monochrome designs by Ashley Martin-Davis evoke the suspense of film noir and the opacity of Last Year at Marienbad; vast heavy-framed mirrors loom over the characters and reveal more than just their reflections thanks to award-worthy lighting by Mark Jonathan and projections by Alex Uragallo.
All the singing is spellbinding and diction is excellent even among the non-native English speakers. Emma Bell gives a complex performance as Vanessa, Virginie Verrez a stellar one as Erika. Edgaras Montvidas captures the louche opportunism of young Anatol and leaves no doubt that his eventual conquest is doomed to disaster, while Donnie Ray Albert shines as the family doctor who has seen way more than he ever lets on.
Jakub Hrůša continues his love affair with Glyndebourne and the London Philharmonic Orchestra by conducting a febrile account of this headily romantic score and making it sing more like a Bohemian masterwork than a slice of American Gothic.
If Vanessa has a fault it's the lucky-dip style of a musical language whose gentle waltzes and catchy folk tunes stand toe to toe with schmaltz and horror. As for Menotti's libretto, it starts as Sunset Boulevard and ends as The Cherry Orchard. That's way too much baggage. Yet I loved it.