Review: Spamilton (Menier Chocolate Factory)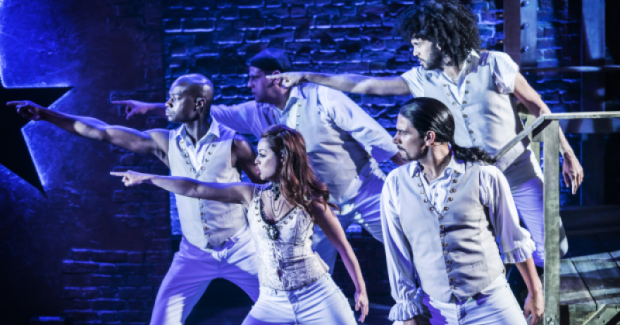 I am not reviewing this show in rap
No, I am not reviewing this show in rap
OK, I'm just like the Menier
I'll take your challenge any day
And I'm gonna review this show in rap.
I'm a Hamilfan, I know the lines
I prob'ly shouldn't brag, but dag, I've seen it four times
The problem is this parody's a craic, but sometimes
They gotta holler just to be heard
With every word, they drop rhymes.
Spamilton's a diamond but it's rough, a shiny piece of coal
Trying to reach their goal, this brilliant cast is adorable.
On as the A-L-E-X-A-N-D-E-R he is Liam Tamne
A goatee and a pony and he's definitely
Miranda, and he pulls it off just effortlessly.
Essentially, they mimic relentlessly
When King George turns around, it's Damian Humbley
He alone is probably worth the ticket fee
Him and the funny Julie Yammanee
Enter she, with Schuyler puppets one, two, three
Don't be shocked when she turns her wrath on Walt Disney.
So let's check what we got
A company that makes us laugh a lot
Set and costumes that are hot to trot
So far I like it a lot
But they hatch a plot weaker than a shoelace knot
Oh, am I talkin' too loud?
Sometimes I get overexcited, shoot off at the mouth
I never rapped a review before
I promise that I'll make y'all proud
Let's get back to what's in front of the crowd
I know the action on the stage is excitin'
But Jesus, the original cast in-jokes 'bout Diggs and co are blightin'
Most Brits just won't find them enticin'
Lin's show is at the Vicky Palace and really
This loving rip-off by Gerard Allesandrini
Is past patiently explainin', it's passionately mashin' and Broadway diva feigning
Ultimately, it's darn entertaining
You'll be laughin' in the face of Julie Andrews and Harry Potter
For the last time, buy a ticket, you just gotta!
You should not throw away your shot
Spamilton's electric like a kilowatt
Hey yo, the plot might be clunky
But for any Hamilton junkie
You should not throw away your shot.