Review: Queen Margaret (Royal Exchange, Manchester)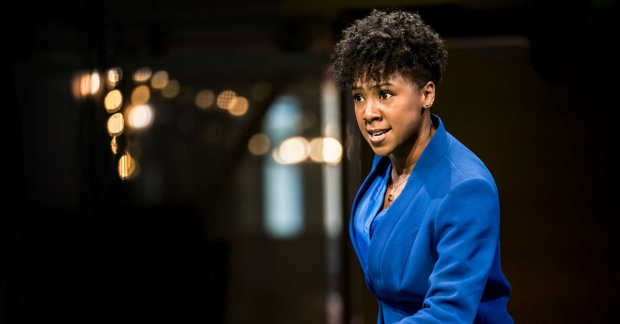 Shakespeare wrote more words for Margaret of Anjou – wife of Henry VI – than any other woman across all his plays. She speaks more than Rosalind, more than Cleopatra, but spread across four plays, Queen Margaret's story is stretched thin and scattered.
Jeanie O'Hare stitches it back together in this patchwork play – much more than a neat way to realign Shakespeare's gender balance. Cutting and pasting Margaret's canonical scenes, O'Hare fills in the gaps to tie the timeline together. It doesn't just shed new light on Margaret herself, but carves a whole new path through Shakespeare's Histories and England's civil war.
Instead of watching the men jostling for power, squabbling over royal lineage and rightful heirs, O'Hare focuses on the woman holding a fragile peace. Jade Anouka's Margaret of Anjou is herself a peace offering, betrothed to Henry VI to end the 100 Years War. If she arrives as an ingénue – a royal fiancé in a foreign land – she soon finds her footing, pushing her meek husband (Max Runham) to sack his Lord Protector and assert his own rule.
With England on the cusp of chaos – Lorraine Bruce's brusque Duke of York incites rebellion – Margaret alone acts in the national interest. She's not power hungry, but a people's princess, and O'Hare presents Margaret as a moderniser who unpicks a political system that lets landowners arbitrate their tenants' complaints. Dressed in EU blue, she's part Maggie Thatcher, part Mary Poppins. "I am the peace," she declares. "I'm going to make this country work."
That she ends the play fighting right to the last, stringing out the civil war she sought to avert, is not just ironic, but poetic. Having watched her husband disinherit her son, Margaret fights as a mother, not just as a queen. Her complaint is the same that sparked the Yorkist uprising and O'Hare suggests she's the unspoken link to Richard III's totalitarianism – in going after the York children, she plants the seeds for his dogged pursuit of potential enemies. O'Hare shows the way politics becomes personal and Margaret's inspired throughout by the restless spirit of Joan of Arc (Lucy Mangan) as she slides from righteousness to rebel, always intent on leaving her mark on history.
Played on a green island stage, Elizabeth Freestone finds the pulse of a political thriller, but loses the tautness as the war hots up. To stress the way warring families lose sight of political reality, Freestone treats the violence as a joke – Kwami Odoom's Richard kills with a Playstation controller, even as the body count clocks 30,000. Amanda Stoodley's baize dartboard design suggests all this as sport, but it's more eloquent about the centres of power and history. Margaret's more effective because she's off to one side, and she's never targeted as a result.
Anouka anchors an exhilarating play with real flair, her crack voice initially alluring then raging with ire, and there's strong support from Samuel Edward-Cook as Margaret's closest allies, civil Suffolk and crazed Clifford, and Helena Lymbery as the people's representative Hume, with a rose of each colour stitched into her coat lining.
O'Hare had the idea for Queen Margaret over a decade ago, when the RSC presented the Histories in full. With the nation at war over Brexit, this story of a Frenchwoman fighting for England's heart has found its moment. It should make its mark.