Review: Peter Pan (Park Theatre)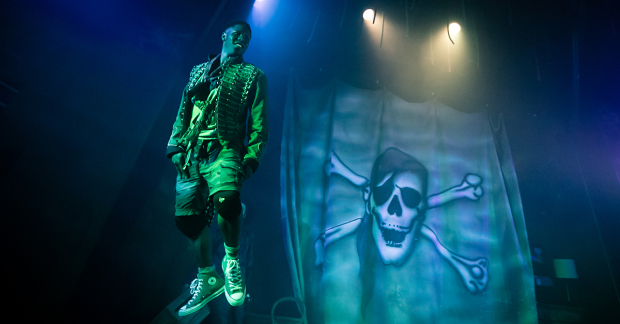 One of the twentieth century's most beautiful and enduring stories, JM Barrie's Peter Pan was written and originally performed in 1904 as a play – a "Fantasy in Five Acts" – about a boy who could fly and refused to grow up. It later became a book and the subject of innumerable film adaptations.
Fantasy is at the heart of Jonathan O'Boyle's Christmas production at the Park Theatre. From the pile of autumn leaves that turns out to be a huge puppet of the dog Nana, to Tinkerbell's explosive first appearance, there are imaginative touches throughout.
Parts of the text have been updated to reflect the diversity of modern life, and these tweaks don't always sit entirely comfortably.
But Barrie's own insistence throughout the play on the value – even superiority – of girls has a satisfyingly modern ring to it, and the delightful Rosemary Boyle gives Wendy all the sweetness, charm and deep sense of responsibility that make all the Lost Boys long for her to be their mother figure.
She also communicates the confusion and conflicting emotions that accompany her growing feelings for the asexual Peter, who remains resolutely baffled by her interest.
Nickcolia King-N'da as Peter Pan is very much a man in build, but he's mercurially light on his feet and conveys Peter's combination of bravery, innocence and devoted loyalty to his friends.
Hook is seen here more in the guise of a butcher than a pirate captain, dressed by designer Gregor Donnelly in a leather apron, swishing coat and a rather elegant broad-brimmed hat. Alexander Vlahos' ethereal looks, biting delivery and sinister glare at the front row children had one baby bawling, but if you can't be frightened of Hook, who can you be scared of?
There are also some terrific fights directed by Christian Cardenas, with ingenious weapons in the final showdown. Who knew a leaf blower could be so deadly?
Harveen Mann is outstanding in a variety of roles, from neighbour Lisa to Lost Boy Tootles, with impressive comedy characterisations for all of them. Natalie Grady also brings gravitas to Mrs Darling, and later appears as the hapless Smee. The puppet Nana, designed by Matthew Hutchinson, is operated to great effect by Alfie Webster, who also plays Starkey and Slightly.
There are uneven moments throughout, and the haze of smoke also makes for an overcast feel at times. But with its fights, flights and fantasy, this show is, in Peter's words, an "awfully big adventure".