Review: Missing (Battersea Arts Centre)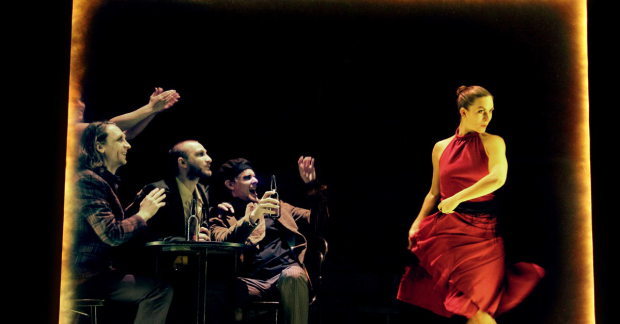 It may be the longest fringe show run ever: the first night of this run of Gecko's Missing was actually in 2015. The piece opened in Battersea Arts Centre's Grand Hall space and was interrupted by the terrible fire which burned though the space, destroying Gecko's complicated, tech-heavy set. Thankfully, no one was harmed. Three years later and Missing has returned to finish the run it started in a now beautifully restored Grand Hall.
It's apt then that Missing is a piece which reflects on the impact of the past on the present. Using the company's signature intense, disarming and often disturbing movement, Missing follows a young woman struggling with relationships – husband, lovers – because of the buried, personal trauma of the breakdown of her parents' marriage and her mother's eventual walking out.
But plot is rarely the central focus in this company's pieces and that's certainly true here. What Missing does very well is present one person's outside and inside, public and personal, through frenetic, horror-infused choreography.
The movement is striking and it is often used at its best here to demonstrate an inner pain, or scream. As such, often the characters repeat jolts, ticks, phrases – tiny everyday shorthand movements – more and more to become a frenzied blur of bodies. At one point the central unnamed woman sits on the sofa in her flat with her new husband and where one of them reaches for the TV remote one goes to rest on the the other's shoulder. Their arms, clash, their feet knock against each other and what begins as funny and awkward quickly becomes a physical manifestation of how the two are just not connecting.
It's a neat way of using movement to demonstrate meaning and Amit Lahav's piece uses it a lot. So much so that occasionally it feels as though Missing is too much the sum of its parts; a group of individual moments that don't flow so easily.
The piece is not here to make you feel comfortable, however. In fact, from the very first moment of loud, blasting music from Dave Price, accompanied by the sort of screeching you'd associate more with horror-movies than theatre, there is something lingeringly dark about everything that happens onstage. Communication – or the lack of it – is a theme too; the characters each talk in different languages, snippets of words, sentences, things that don't add up to much, but which denote the sense of a scrabbled, half-heard conversation. People are missing the connections and confusion reigns.
This is an inherently visual piece, with Rhys Jarman and Lahav's remarkable set providing some spectacular coups de theatre. The section where an argument between parents is replayed back and forward as if being fast-forwarded and rewound on screen, in front of a brightly lit Perspex window is a fascinating, astonishing thing to watch.