Review: Island Town (Summerhall, Edinburgh Fringe)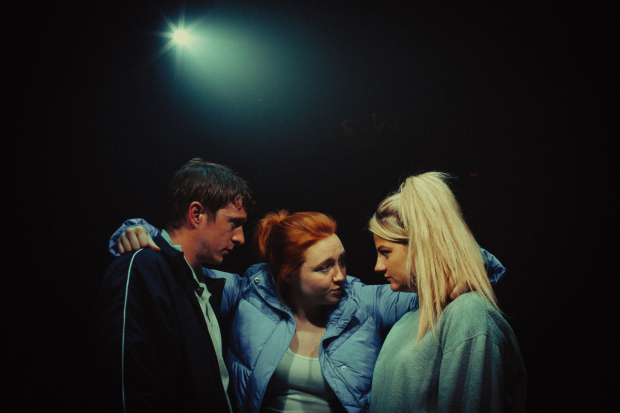 Simon Longman is rapidly becoming the poet of the dispossessed. The author of the grim rural drama Gundog which won the George Devine Award for Most Promising Playwright now turns his attention to three other youngsters marooned in the middle of nowhere, deprived of opportunity and hope.
When we first meet them, sprawled on the ground, Kate, Pete and Sam are 15 and already trapped. Their anecdotes of boredom are funny: Pete has chatted up Sam's gran; he nearly burns the house down trying to cremate a fish. But Kate is already angry at the lack of expectation, already talking of escape from a dead-end life of where cider and ketamine are the only entertainments on offer.
We watch them grow up in front of our eyes, but their lives don't change. They remain stranded in a world that has ceased to care for them. Pete dreams of being a dad, and tries to seduce a girl in the supermarket with a present of sausages. Sam stays at home, where her parents are rowing, carrying her baby sister around in a bag so she can't hear the arguments. Kate reluctantly cares for her dying dad, resentful, bitter, furious, still dreaming of leaving.
Longman's dialogue brings them to vivid, brawling life. He has an extraordinary ear for the restless demotic of youthful speech but he's also good at smuggling his themes into the rush of everyday dialogue. The sense of isolation, of a society that has fallen to pieces, where there is no care available, not even a bus to take you to the job centre, sneaks up as the youngsters describe their lives; it isn't bolted on in chunks.
We know from the first that Kate has done something she thinks the audience won't be able to forgive, but the drama unfolds naturally, spooling in front of us like the road to somewhere she longs to take. "I deserve better than this," she cries, and in Katherine Pearce's agonised performance you feel the pain of her boredom and her desperation.
Longman perhaps overdoes his imagery, the sense of a town isolated in the middle of the fields, the youngsters as ghosts who nobody sees. And the ending is over-complicated. But the production for Paines Plough is absolutely superb, with Stef O'Driscoll's taut direction winding things to a boiling point, while always maintaining the realistic tone, and the performances from Pearce, Jack Wilkinson and Charlotte O'Leary mine every aspect of their complex characters. The result is a depressing but engrossing triumph of empathy.