Review: Frankenstein: How To Make A Monster (Battersea Arts Centre)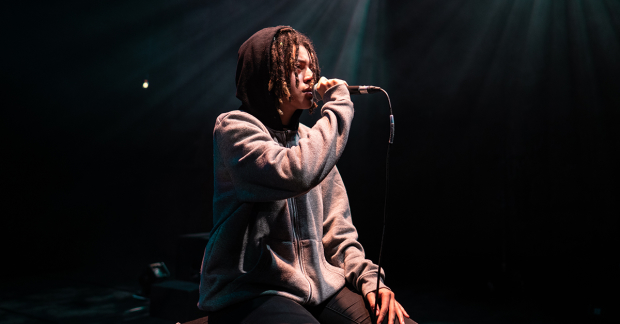 BAC Beatbox Academy won an Off-West End Award when Frankenstein: How to Make a Monster first premiered at Battersea Arts Centre in 2018. It is easy to see why – this is a rip-roaring hour of entertainment provided by some of the UK's hottest young talent.
The show returns now for a three week run in the stately Grand Hall at Battersea. Rather than a straight-up retelling of Mary Shelley's tale of Frankenstein, his iconic creature and the tragic consequences of dabbling in the act of life recreation, BAC Beatbox Academy's version is more of a reaction to the themes in the text. It covers the dangers of modern technology, the ways in which society can vilify those with 'abnormal' bodies, and how power and violence are so easily interchangeable.
It's intensely relevant for a smartphone-clenching, image-obsessed generation – how could anyone living in this present-day world not end up a bit of a monster? Frankenstein: How to Make a Monster is a damning, gripping reinterpretation that never lets up for its full hour.
The cast of six – whose monikers are Aminita, Glitch, WIZ-RD, Native, ABH and Grove – are on stage throughout the show, jumping across a simple set composed of naked lights and large, black block speakers. Clicking, humming, harmonising, they conjure up a unique soundscape unlike anything else you're likely to hear on stage.
What defines the piece is the expert performance at work – not simply the beatboxing (which is, of course, unparalleled), but also rap singing and choreography. It's the sort of mixed media experience that could only rarely be pulled off with the same degree of confidence and slickness. The soft haze of Sherry Coenen's lighting makes it all feel simultaneously like a gig and a haunting tribute to Shelley's gothic original, all within the huge walls of Battersea's recently reconstructed main space.
One moment stands out early on as Frankenstein searches for the various body parts needed to create the monster. When a limb or organ, be it the feet, or the brain, or the heart, is mentioned, a different iconic song is performed by the cast. As they put the monster together, they then perform a giant, impressive mash-up – every tune with every limb stitched together.
It's novel, unmissable and expertly crafted. And a total breath of fresh air.