Review: Death of a Salesman (Royal Exchange Theatre)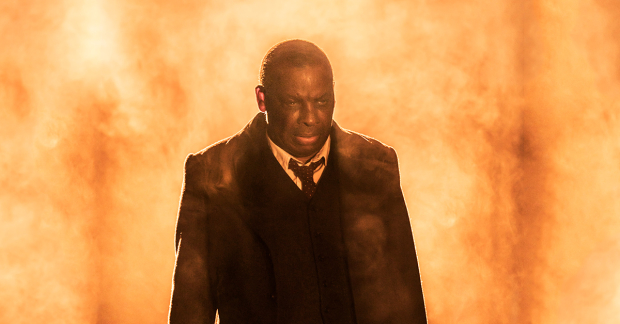 Miller's masterpiece was always going to stand the test of time, that's what classics do. But it's remarkable just how this, almost 70 year-old play, can still affect a contemporary audience, and in Sarah Frankcom's blistering production at the Exchange, its effect is magnified brilliantly.
Salesman was always so much more than just a major riff on the destructive force of the American Dream. Willy Loman is a man at the end of his life, and he's looking back in rancour, living a final 48 hours in a fug of dreams and tortured reality. But his fears are universal and his demise is potentially ours.
Don Warrington wears Loman's pain from the outset: he shuffles onto Leslie Travers' rusting circular stage, trapped between its magnetic force and the verdant canopy of inverted trees that overhangs, just out of reach. In a perfectly nuanced performance, which avoids the worst of Willy's brutality, Warrington shows us the vanishing act that is the ageing process, the sensation of shrinking into invisibility, the fear of disappearing without a trace. His voice is hoarse and he's so palpably tired he leaves trails of exhaustion behind him as he fumbles and stutters through his own personal circle of hell.
Willy's life is also punctured by an overwhelming sense of abandonment and the toxic combination of hopelessness, loneliness and narcissism that fill the vacuum are his destruction. Warrington delivers this emotional panorama in magnificent spasms, like a punch to the gut, turning back in a flash to such aching vulnerability that we forgive him his bullying and his self-destructive pride. His face is impassive but his fingers twitch with undisguised nervousness. He needs validation. Being liked is his sole purpose. The Facebook generation would understand.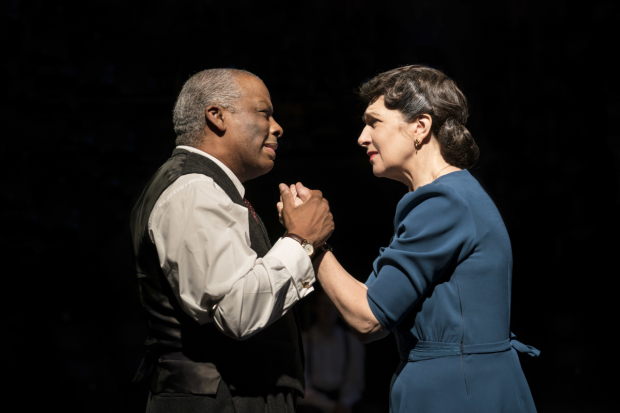 The family of actors that circles him are also immense. Maureen Beattie's Linda combines a pillow-like softness with a heart of steel and creates a forcefield of the stage. Happy (Buom Tihngang) and Biff (Ashley Zhangazha) are superbly balanced as brothers cut from the Loman cloth, with a particularly mesmeric, visceral and heart-breaking performance from Zhangasha (surely, a future Loman, in more ways than one).
And it's the sons that create the other driving force of the play: the familial antagonisms and resentments whose exposure leaves shattered people in its wake – the bread and butter of
20th-century American drama – which Miller voices in some of theatre's most memorable writing.
Frankcom deals with the complexities of the play, the transitions between Loman's alternating psychological states, with a fluid ease that never jars and there are some scenes where the vocal choreography is stunning. Miller's genius allows a director to build easily and incrementally to the play's climax, but when it finally comes its power is sublime.
Willy Loman has measured his life out in dollars and cents. And for what? Judging by the stifled sobs coming from the audience on the press night, it's a question we're still asking ourselves today, and the tragedy belongs to all of us, not just to America.