Don Warrington: My dream role? This one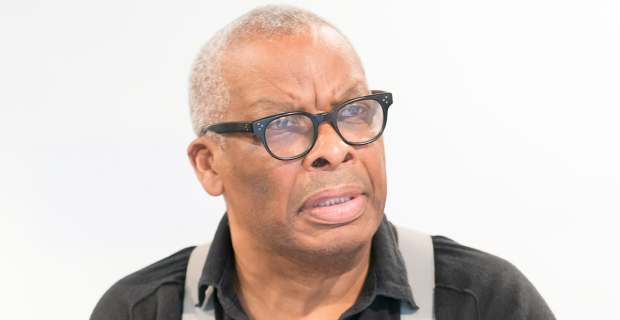 Don Warrington, known for roles in the likes of Holby City and Glengarry Glen Ross, will appear as the beleaguered titular character in the upcoming production of Arthur Miller's Death of a Salesman at Royal Exchange in Manchester, directed by Sarah Frankcom. The piece marks his return to the venue after his performance in King Lear in 2016, as well as Miller's All My Sons in 2013 (that production receiving a five-star write-up from WhatsOnStage). We find out more about Warrington's return to Manchester and why he finds Miller so compelling.
---
1. How would you describe Death of a Salesman in five words?
Huge, universal, epic, heart-breaking, terrifying.
2. How would you describe the show in more than five words?
It's is a great play, if not the greatest play of the 20th century. Willy Loman is a complex character who we meet when he is at an incredibly low point in his life. We join him at what ought to be a celebratory time, coming up to retirement, his sons are grown-up and he's about to own his own house – but mentally that's not where Willy is. It's is poetic and tragic and very human.
3. What drew you to Willy Lowman?
If I'm honest I don't think I will ever really know, he is an intriguing man and to get under the surface of someone like that, a character who is so layered is really exciting for an actor. And Sarah Frankcom asked me.
4. What do you enjoy most about the rehearsal process?
Haha…I'm not sure I enjoy it at all… I have been looking forward to working with Sarah so it is very nice to get into a room with her. We also have an amazing cast who work hard, this is not a play that you can easily leave behind, so that fact that everyone gives it their all is inspiring, supportive.
5. Why do you love working at the Royal Exchange?
The Exchange is a beautiful theatre and as an actor there are very few other spaces where you feel so connected to the audience. At the Exchange the acting company and the audience become one, there isn't a sense of them and us, once you are in the theatre you are all in it together. That can be truly scary and really exhilarating all at the same time.
6. Why do you think Arthur Miller's piece resonates so much?
Because it is about family and their hopes, dreams and aspirations, and we can all connect to that. We all recognise ourselves in the Lomans – perhaps now more than ever.
7. What do you hope people will take away from it?
I hope that people will have had a great night at the theatre and that perhaps it will make them think about what really matters: kindness.
8. What's the biggest challenge with the piece?
Learning the lines and getting all the words in the right order. This play moves, shifts in time and space really quickly and to make those shifts work as an actor is definitely a challenge.
9. You've done Arthur Miller plays before at the Royal Exchange – how does it feel coming back?
It feels lovely coming back, I do love this theatre and the plays are very different. The journey that Joe Keller takes is very different to the one Willy Loman is on.
10. What is it that draws you to acting?
The opportunity to put on other skins – maybe?
11. What's your earliest memory in entertainment?
Watching Bollywood movies in the Caribbean.
12. What's your big break?
Rising Damp.
13. What would you have been if you hadn't been an actor?
I'm not sure, I think I would have liked to do something practical, to be a carpenter and make things.
14. What has been the most embarrassing moment of your career?
I think one must live with a degree of embarrassment and not mind.
15. Who are your idols?
I love Marlon Brando in On the Water Front and Richard Pryor is so funny and so clever. I love music too so Duke Ellington and John Coltrane.
16. Do you have any dream roles?
This one… and then the next one. Let's hope there's a next one!
17. If you could go back in time and change one thing, would you do that and what would that one thing be?
I don't think I can answer that…
18. What have you seen recently on stage?
Girl from The North Country – it was stunning.
19. What do you do to unwind in your spare time?
I play my saxophone.
20. What advice would you give to aspiring performers?
Never give up.