Review: Dead Dog in a Suitcase (and other love stories) (Lyric Hammersmith)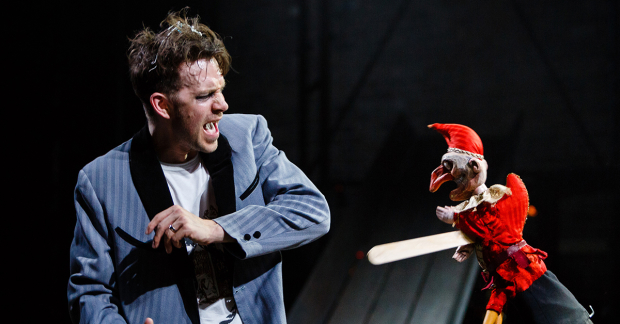 Kneehigh is back in London and taking no prisoners as the award-winning company re-stage the 2014 smash hit Dead Dog in a Suitcase (and other love songs). Despite its slightly morbid title and shady underworld setting this is an over-the-top and bombastic affair, roving across the UK on a new tour with a few weeks' pit-stop at the Lyric Hammersmith.
Mining John Gay's original Beggar's Opera and adding a layer of noire-ish political thriller vibes (credit must go to lighting designer Malcolm Rippeth, who has his own suitcase full of tricks), Carl Grose delivers a text that styles itself like an angsty British take on Sin City. The story hinges around hitman Macheath, on the verge of fleeing his life as criminal to find a new world with his new wife, Polly Peachum. The only twist is that he's wanted for murder, and Polly's parents will stop at nothing to see their daughter returned.
Rather than a satirical indictment of a corrupt society Grose ramps up the piece's sense of existential dread – the characters almost seeming to exist on the precipice of some great apocalypse. The world, according to Macheath, needs to be torn down and raised back up. Lawlessness is the order of the day – there are brutal murders, hangings, officials being fed money by criminals and infidelity by the bucket load, and that's all before an AK-47-toting Mrs Peachum storms the stage.
In artistic director Mike Shepherd's production all the Kneehigh tropes are on show – slick puppetry (thanks to Sarah Wright), eclectic music choices (regularly performed by the ensemble), Etta Murfitt's whimsical choreography and more. The cast is, as expected, cracking, though special mention must go to Georgia Frost as the woe-ridden Filch, who brings the house down with a blues-y lament in the first act. Dominic Marsh's Macheath is the definition of roguish, straddling the oddly thin line between charm and utter twattishness. Rina Fatania delivers laughs aplenty as the scheming Mrs Peachum, teaching her husband how to do business while in the middle of an ad-hoc yoga sesh.
Charles Hazlewood's music draws on every reference imaginable – choral arrangements sit alongside throbbing dubstep beats, there's a gung-ho ska wedding while heavy rock somehow manages to slide seamlessly into "Greensleeves". Considering the major ingeniousness at work, it's sadly all delivered in far too small morsels.
In spite of a slightly meandering second act the piece ends with a roaring climax (one that would be sinful to spoil) that lingers long in the mind. From Michael Vale's versatile and multi-tiered set (which even boasts its own slide!) to some expert musical performances under Hazlewood's direction, Kneehigh sure knows how to deliver a spectacle.