Review: Cirque du Soleil's Totem (Royal Albert Hall)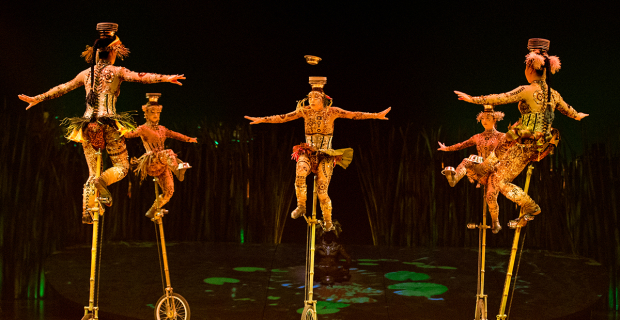 Cirque du Soleil is back at its annual stomping (swinging?) ground in west London for a new bout of circus flare and massive spectacle. This year, it's another outing for the troupe's show Totem, last seen at the same venue eight years ago.
It's worth saying straight out of the gate that there is a brilliantly choreographed fixed-trapeze act from Marie-Christine Fournier and Louis-David Simoneau nestled in the heart of the second half, as well as a mesmeric sequence involving five unicyclists bowl tossing in perfect synchronicity that sparkles with originality. Those really are the bits worth raving about.
But for all its big-budget splendour and the huge amount of space on offer at the Royal Albert Hall, the rest of the two and a half hour piece just feels, for the most part, unadventurous.
Entering the venue to what appears to be some giant tortoise shell courtesy of designer Carl Fillion, we're promised, according to the show's programme, a gander through the history of evolution through the medium of circus. But as the piece progresses, it all suffers from a general lack of consistency, shuffling to and fro across humanity's history – one minute we're watching a load of pre-historic amphibious creatures on a shoreline, the next moment we're chilling in the modern day with two Speedos-sporting acrobats on a beach. A moment that feels like an allusion to the ape scene from 2001: A Space Odyssey is interrupted by rock music-loving neanderthals. The aesthetics all feel out of place.
With a load of writhing and jumping performers sporting what look like body-sized green condoms (as well as a questionable decision to dress two European performers in Native American clothing), the show slides into mediocrity and standard circus fare, peppered with some genuinely spellbinding moments. The overall show doesn't really feel like it has any shape – the final Russian bar sequence (set in a vision of humanity's future, all neon and UV colours) ends without any real fanfare.
The clowning was perhaps the most tedious skit of all, and one clown's incessant attempts to woo a solitary member of the audience with teasing asides and tongue-in-cheek flirtation just felt unnecessary. And that was before he started flossing (the dance that is).
It's not to say there's no talent on display – Marc Lessard and Guy Dubuc's compositions are well worth a listen – and for circus novices this could be the perfect initiation. But with some hammy projection and an inconsistent theme, the show just never lights up in any of the ways it promises. Thank heavens for the unicyclists and trapeze artists.