Review: Cinderella (La Cenerentola) (Leeds Grand Theatre and tour)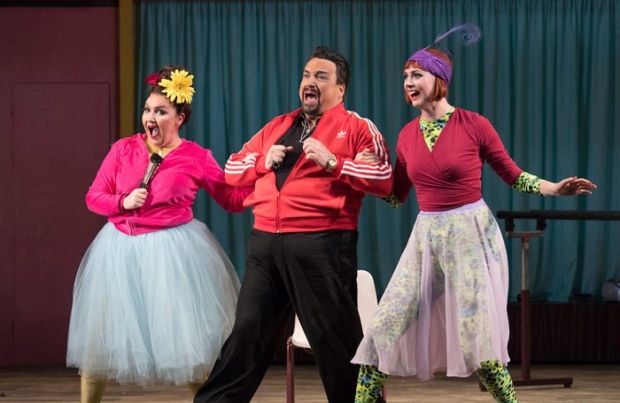 What a wheeze, in an evening that's full of them, to kit out the men of Opera North's Chorus as iconic cinéastes and fashion gurus. Dead ringers to a man, their every appearance is a sly wink to the buffs. Look, there's Ken Russell rubbing shoulders with Karl Lagerfeld. And what's Pier Paolo Pasolini saying to John Schlesinger?
If anything there is too much cleverness in Aletta Collins's production, but I guarantee you'll be swept along by its wit. As for the music, the Orchestra of Opera North delivers a briskly entertaining reading under David Cowan (who alternates in the pit with Wyn Davies, although the latter conducts the lion's share of tour performances). The cast is pretty joyous too.
Rossini's blissful comedy, to my mind at least as great a work as The Barber of Seville, is being marketed by Opera North as 'Cinderella' . Now that title, although correct as a translation of Perrault's Cendrillon, risks confusing both opera lovers on the lookout for Rossini and panto-lovers who expect fairy godmothers and glass slippers.
Rossini and his librettist Giacomo Ferretti stripped La Cenerentola of its fairytale elements and turned it into a frothy cousin of Commedia dell'arte. Gone are the wicked stepmother and the fairy godmother; in their place, to even up the gender balance, come the preposterous Don Magnifico (Henry Waddington) and a mysterious life tutor, Alidoro, here sung by the vocally stylish and urbanely hilarious bass-baritone John Savournin, who makes light work of his big aria, "Là del ciel".
'Visual jokes come thick and fast'
Rossini retains the sisters but drops the ugly; the director, however, stuffs plenty of it back into the amusingly grotesque performances of Sky Ingram as Clorinda and Amy J. Payne as Tisbe. Yet there's no getting away from the fact that the two of them are underwritten, unlike their father the Don who's a party piece for Italian speed-singers and, in Collins's production, a show-stealing opportunity that Waddington grabs with both hands. The burly bass-baritone is a comic scream as proprietor, tutor and fleecer of proud parents at 'Don Magnifico's Scuola di danza'. Always game for a self-deprecating sight gag, this formidable artist also sings dazzlingly and natters Rossini's patter to the manner born.
The Canadian Wallis Giunta is affecting and eloquent in the title role and adds her name to a distinguished roster of mezzo-sopranos, from Cecilia Bartoli to Joyce DiDonato, who've preceded her among the cinders. Her house debut is a roaring success, as is that of Sunnyboy Dladla as Prince Ramiro. This gifted young high lyric tenor from South Africa seems destined to follow in the footsteps—or at least the repertoire—of Juan Diego Florez.
If Aletta Collins's ideas are slightly over-egged and the concept doesn't always hang together, at least it provides royal entertainment and makes the most of designer Giles Cadle's adaptable (and self-evidently disguisable) common 'environment' for the season's three operas. Doorways come and go, sections of wall swing aside as we move between locations, and the visual jokes, not to mention plenty of nifty choreography from this dance-specialist director, come thick and fast.
Unlike The Snow Maiden and Hansel and Gretel, its translated companions on tour, La Cenerentola is being performed by Opera North in the original Italian, in line with the company's admirable policy of doing what's right for its audience on a show-by-show basis. Now there's opera that speaks my language.
Cinderella (La Cenerentola) tours to Newcastle, Salford, Belfast and Nottingham until 25 March.