Review: A Monster Calls (Old Vic Theatre)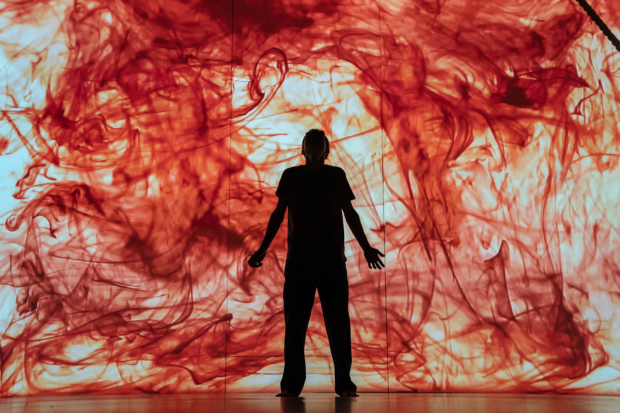 If you end up coming to see this adaptation of Patrick Ness' book for young adults, and haven't read the original, here's a piece of advice: bring tissues. Director Sally Cookson taps into a very deep well of human grief, here felt by a 13 year-old boy whose mother has cancer. By the end, even the most hard-hearted of audience members will be left in a pool of tears on the theatre floor.
Ness' book follows Conor (played beautifully by Matthew Tennyson) who is troubled by both bullies at school and nightmares. His mother is going through chemotherapy and although the two of them have been dealing with it fine up to now, Conor's hated grandmother has been called. Things, Conor can sense, are about to change. Into this mix comes a monster, in the shape of the huge old yew tree from their garden that visits the boy three times, each time to tell him a story.
Cookson and the company's adaptation is a fluid, ensemble piece which relies on bodies, rather than sets to tell a contemporary story shot through with the magic of ancient myths. The cast all sit in a line of wooden-backed school chairs at either side of the stage, coming into the action and leaving it to play a mix of roles. They hold up coats, mugs and a kettle for the characters making tea and leaving for school in the house scenes, they are Conor's classmates in the school scenes. Their timing is razor-sharp and they switch between scene and scene, and from role to role with an amazing subtlety.
It's an elegant yet simple way of storytelling and Cookson is very much doing what she does best. She has created a cast who entirely become the story. The monster, created with the help of huge white hanging ropes, is a mix of all of them wound up together, hanging, pulsing and shouting as one. Later, Stuart Goodwin – oddly both fearsome and amenable – mostly embodies the monster, bare chested and with yew berries round his neck. He stalks the stage on stilts and is pulled up and down into hanging ropes. Cookson's stage visuals are remarkably striking: she is a wizard at creating huge meaning from barely anything on the stage.
The music and soundscape, created by Benji Bower and performed live by him and Will Bower, is a vital part of the show too. There are echoes of Radiohead's Kid A phase, a moment or two of Massive Attack as well. The music's rise and fall adds to the onstage intensity, perfectly helping to lift a mood or herald something bad. The cast also sing and their voices – Whitney White and Hammed Animashaun in particular – add to the ethereal, soul-like quality of the music.
Cookson manages the horror very well too, using swirling, blood-like projections from Dick Straker. The initial nightmares and the monster moments also reminded me a little of TV's Stranger Things. But, unlike that show, the narrative at the heart of this story is anything but fantastical; it gets right to the truth of how we deal with loss. And the story is made all the more heartbreaking because Conor is so young: he's unable to fully process what he feels and he is eaten up with guilt. It's an upsetting watch, yes, but a truthful, hopeful and human one too.