Sally Cookson: 'Local arts cuts in Bristol have been devastating'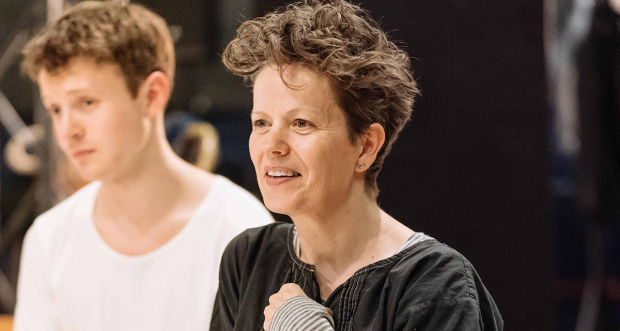 Sally Cookson has some incredible shows under her belt – her devised production of The Lion, The Witch and The Wardrobe at West Yorkshire Playhouse last Christmas was described by Matt Trueman as "truly epic", while her Bristol Old Vic version of Jane Eyre, which then transferred to the National Theatre, was labelled "a stage masterpiece for the 21st century." Her version of We're Going On A Bear Hunt celebrates its 10th anniversary this year, and is also currently running in the West End. She now directs the new stage adaptation of Patrick Ness' bestselling novel A Monster Calls, which opens at the Old Vic in London in July after a spell at the Old Vic over in Bristol. Following the story of a young boy, Conor, faced with the loss of his terminally ill mother, the show combines fantastical elements with human tragedy. Tissues for dabbing away tears are recommended.
---
Why did you want to adapt A Monster Calls?
When I was directing Hetty Feather in the West End, one of the cast members gave me Patrick's book and urged me to read it. I did so in a weekend and knew it was something I had to adapt. I'd heard the rights weren't available at the time, but kept it in my rucksack because it was a text I fed off. A couple of years later I was invited to come and chat to the Old Vic's artistic director Matthew Warchus who had a list of titles I'd be interested in, and right at the top of the list was A Monster Calls! I had the book in my bag, so brought it out and was just like: "When can I start?".
How would you describe the book?
It's marketed as a young adult novel but it's really a book for everyone. At the centre of it is Conor, a young boy who is struggling to come to terms with his mother's illness. He's going through a mental breakdown because he doesn't have an outlet for what he's feeling and nobody is allowing him to speak the truth. It leaps into the realms of fantasy and magical realism. If The Lion, The Witch and The Wardrobe was massive and orchestral, then this is a chamber piece. We get reminded of Chekhov – none of the characters say what they're feeling, they're all hiding something and no one is telling the truth.
You've devised the show, how has that process been?
I always promote the idea of the ensemble taking responsibility for the story. I didn't want to rely on a massive set or lots of puppetry to do all the work for us. After drafting a springboard for the play with writer Adam Peck, we decided to start with this idea of a white space, and do the show with as few props as possible. Which is massively difficult but a fascinating exercise. There were really hard things, like how to build a tree on stage, and it took a few attempts before we came up with the idea of the "rope language", which is a big element in the show.
Since it's devised, when do you stop working on a show?
For me, a show is never finished. A lot of things change when you put them in front of an audience. I work all the way through the tech, the previews, all the way until press night. Once I get there I have to stop, (people tell me I'm not allowed to do anything more, even if I want to!). It's a nightmare for those wanting to publish the text before the show opens…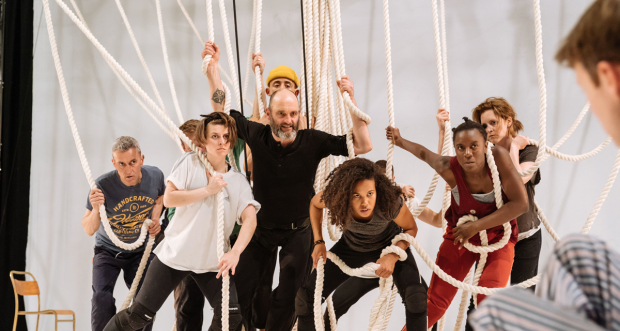 Where did you first cultivate this devising process?
My own process started while working with Youth Theatre at the Bristol Old Vic. in 1994, I used to be an actor and at the end of my contract I started working with young people. We'd have a room full of 35 kids and by doing things in a devised way, you'd be able to make sure everybody could bring something to the table. And it created ideas for shows that I'd've never thought of on my own. But I am also interested in working with texts and playwrights! People assume that that's something that I don't do, but I love scripts and language.
Have circumstances changed for young theatremakers?
At the moment young people have to take on jobs just to support their theatremaking, but there's only so much that they can do on goodwill. There're so many people in Bristol that are trying to change the way that theatre's being made – companies like the Wardrobe Ensemble who are finally being recognised at last.
Bristol has had some large-scale funding cuts recently – what has that been like as someone creatively based in the city?
I feel devasted that Bristol has had its local funding cut, especially for the outreach department and the engagement work done there – work that involves the community in so many important ways. Since they're the most extraordinary group of people, the department are striving to not stop the work that happens. It breaks my heart that councils have to choose between ambulances and having theatres go into schools. It's devastated a part of the Old Vic, but they're resourceful and will always find ways to make it work.