Review: A Midsummer Night's Dream (Bridge Theatre)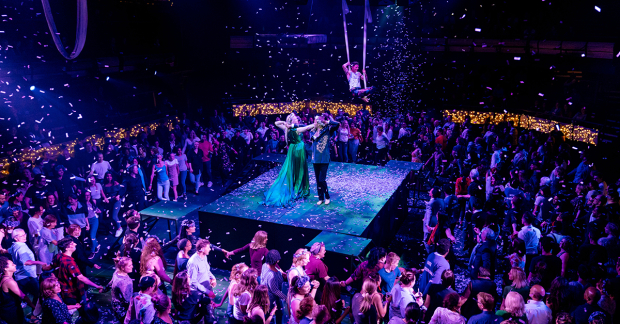 The words 'immersive' and 'midsummer' are usually pretty good bedfellows. Shakespeare's magical fairy comedy lends itself very well to a site-specific setting, frolicking in forests, that kind of thing.
It's a pity then, that one of the main questions you end up asking at the end of Nicholas Hytner's production, is: why did they bother? There are moments where the staging, in which Hytner has a chunk of the audience standing watching from the pit, does come into its own. But mostly, certainly as an audience member on the ground, it is tiresome.
Where Hytner's production of Julius Caesar felt like it had more reason to be 'immersive' – the crowds became the crowds of Rome – here that reason has gone. And though Bunny Christie's set – which emerges up and down from the floor – is inventive and occasionally very surprising, mostly it is hard to see anything.
I think the best place, therefore, to watch this Midsummer is not from the immersive seats, but from the actual seats, which allow you to watch all the action unfold unimpaired. But even with good sightlines the play never really takes off, which is surprising given that the fairies – along with David Moorst's astonishingly agile Puck – spend most of their time cavorting on ropes swinging above the stage.
The best thing about the show by far is Hammed Animashaun's Bottom, with the help of his Rude Mechanical folk, who works ridiculously hard for the laughs. He is funny and poetic and serious all rolled into one and he leads the troupe of hapless actors beautifully. It is a pity that not more of the cast manage to expose their funny bones. Oliver Chris' Oberon, who, in a very apt swapsies is the one to fall in love with Bottom's ass, tries too hard in some very overblown scenes.
In fact there's a lot of working a bit too hard throughout, with much of the comedy relying on modern day language gags. Gwendoline Christie cuts a graceful and forceful Titania, who refreshingly has much more of the power in the play than usual. She is engaging and, by the end, filled with a palpable joy. Moorst is a kooky, uncomfortable Puck, all bent knees and toes and fingers. But he is a natural acrobat and he deftly swings about the place whilst delivering the Bard's lines. The lovers are sweet but it is only Isis Hainsworth and Kit Young who manage to bring out the comedy in those roles with much success. They are all a little dry.
The show comes into its own at the end, with the play within a play, which is raucous and full of physical madness. A bit more of this playful, low-fi silliness may have worked better for the show as a whole.