Review: A Hundred Words for Snow (Trafalgar Studios)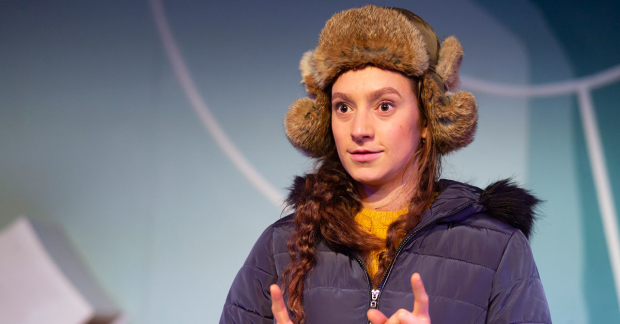 It might be an old myth that the Inuit have dozens of different words to talk about the cold, white stuff that falls from the sky – but at least there are plenty of positive adjectives with which to describe Gemma Barnett's performance in A Hundred Words for Snow: a one-woman play now at Trafalgar Studios.
Here are two of them. Barnett is impassioned and intoxicating as Rory, the teenage tomboy who sets out to reach the North Pole to honour her dead dad, a geography teacher and a frustrated adventurer. The play unfolds in a wilderness which is both actual (arctic) and figurative (an emotional landscape filled with loss and abandonment). Barnett is the wanderer of this wilderness, and she wanders it with great vigour.
Fantasy collides with cold, hard reality in Tatty Hennessy's coming-of-age tale. Rory sets off with a big rucksack, a big grin, and her father's ashes tucked under her arm – just as one of the Famous Five might pack lashings of ginger beer and scotch eggs.
The premise really is as hammy and old-fashioned as that. But things soon take a turn for the 'real' when Rory has a sexual awakening, and after that comes to realise the serious politics underpinning global exploration. You're left asking whether conquering 'virgin territory' in the poles is any less icky than a sexual 'conquest'.
The story happens on Our Actual Planet Earth, insofar as mankind has successfully managed to deflower it by the year 2019. Distinctly, this is a world of whale-watching cruises, elephant rides, and single-use plastic. And with much wit, Hennessy points out that while the great polar explorers of old had to fashion pickaxes with their own poo, nowadays there is not an inch of the globe uncharted thanks to budget air travel. Why hike anywhere when you can fly there with a panini in your hand?
As if to ram home the message about degradation, the production looks as plain as tundra. The set recalls the blocky weather charts of a bygone TV forecaster; the lighting and sound evoke an exhibit at the Natural History Museum; all turquoise tints and low enigmatic rumblings of some hungry nearby glacier.
But in the imagination of director Lucy Jane Atkinson, this tiny stage is as broad as an ice shelf. And Barnett's storytelling talents are enough to provoke an imagined chill here and there. A few final words for her? She's a riveting Peter Pan for our times: anxious, damaged – and desperately in search of a fast-melting Neverland.