Review: Waitress (Adelphi Theatre)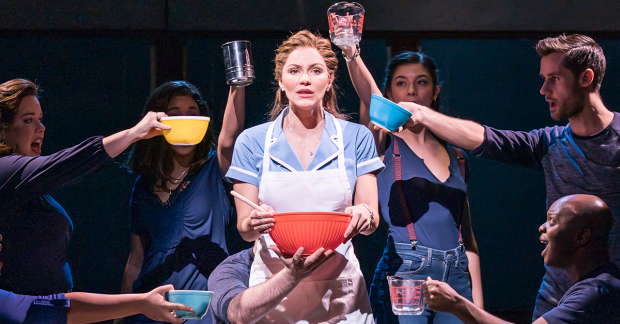 Waitress is an odd concoction – just like one of the pies its heroine bakes, to sum up the contradictions of her life. Sweet and sour (blueberry and bacon), sentimental and funny (whipped cream and chilli), ethically dubious yet somehow life-affirming (Mermaid Marshmallow pie, with whipped cream and coconut), it takes its wild ingredients and mixes them together to make a strangely satisfying and charming show.
The idea, as Jenna, the waitress at Joe's Pie Diner tells us in the opening number, is that each pie contains her whole life. They all have names. There's "Betrayed By My Eggs Pie" for her unexpected discovery that she is pregnant by her vicious, abusive husband Earl. ("I got drunk and slept with my husband," she sobs. "We've all made that mistake," her sharp friend and fellow waitress Becky retorts.) Then there's "Life's Just Peachy Keen" for the moment she falls in love with her dishy, kind, gynaecologist Dr Pomatter. And "Strawberry Chocolate Oasis Pie" which is the one she plans to enter into a baking competition and win a massive prize and the chance to start a new life.
It's a peculiar but winning conceit, lifted from the 2007 movie Waitress, written by Adrienne Shelly, the talented actor, writer and director who was murdered before her breakthrough film even opened. Jessie Nelson wrote the book, and the singer songwriter Sara Bareilles provided music and lyrics in a variety of gentle pop and country styles. Diane Paulus, who directs, brought the entire thing together with a female-dominated creative team (Lorin Latarro provides some wonderfully understated choreography).
Having become an established fixture on Broadway since its opening in 2016, it's finally getting its West End run, starring American Idol runner-up Katharine McPhee, alongside a mixed British and US cast. McPhee is undoubtedly one of the reasons to go to see Waitress. Her pure, powerful voice lends heft and passion to songs such as the confessional "She Used to Be Mine" and complexity to her constant musings on baking.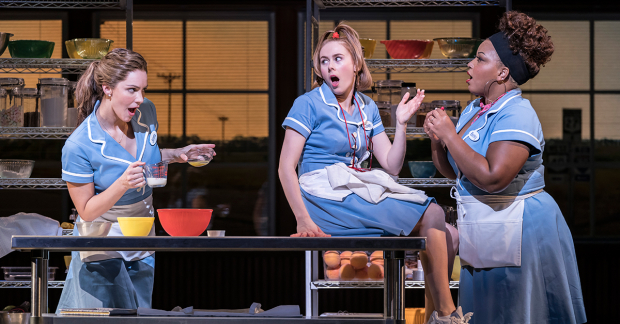 She also has the warmth and wit to ride a plot which essentially involves her going on a journey to find self-realisation by having sex with her doctor while being scared to leave her terrible husband. But the murkiness of Waitress's moral world is, in the end, part of its appeal; it is much less clear-cut in sentiment and setting than the average musical and while Bareilles may not have Sondheim's sophistication as a lyricist, she manages to write songs about waiting for a pregnancy test, not wanting a baby, abusive husbands and messy love lives with some style.
The show has an attractive ability to undercut itself. Just as Jenny, Becky and the third waitress Dawn are getting schmaltzy over a baby, Dawn's boyfriend Ogie walks in and says: "There are no words…but I am double-parked" thus summing up the show's effect in a single line. In a similar way, Scott Pask's set is at one level a realistically cheesy incarnation of an all-American diner, but easily accommodates an on-stage band, and wide American skies in quick-flowing scenes.
In this context, at once sophisticated and hokey, the show manages to hold a lot of enjoyment in its capacious arms. The love affair between shy Dawn (Laura Baldwin, all wide-eyes and obsessive movements) and Ogie (Jack McBrayer of 30 Rock fame, fantastically energetic) is broad-brush and caricatured but charming all the same. David Hunter's Dr Pomatter walks the tricky line between predatory professional and kind man, with finely-timed comic acting and singing of glorious, unaffected openness. Shaun Prendergast lends grumpy Joe, the diner owner, a humanity that is surprisingly touching and Marisha Wallace brings such panache and joy to her big numbers as Becky that she is impossible to resist.
All in all, Waitress is a treat. You can buy the recipe book and sample pies in the foyer, but even without them it leaves a pleasantly sweet taste in the mouth.