Next to Normal review – astonishing UK premiere of Pulitzer-winning musical
It's a strange sensation to walk out of a musical wishing there had been slightly fewer songs. But that was how I felt at the end of this astonishing, involving show.
When it opened on Broadway in 2009, after extensive rewrites from its off-Broadway incarnation, with music by Tom Kitt and book and lyrics by Brian Yorkey, the show ushered in a new type of musical: one that could deal with a serious, difficult subject in a bold, brave way. It won the Pulitzer Prize for Drama, three Tony awards, and Ben Brantley in the New York Times contrasted it with the "feel-good musical" by dubbing it "a feel-everything musical, which asks you…to discover the liberation in knowing where it hurts."
But it's taken a long time to reach the UK, and perhaps that's because its rock-heavy sung-through score has a particular type of sensibility that assaults rather than entices the ear.  There is an awful lot of drumming which pulls attention away from the power of Yorkey's words and the impact of a story about the effects of bipolar disorder and grief on an ordinary family.
What is unquestionable however, is that Michael Longhurst – who revealed himself as a brilliant director of the challenging, complex musical with Caroline, or Change – has produced an absolutely superb production with a cast who are pitch perfect dramatically as well as vocally. They make it impossible not to feel wrought and moved by the close.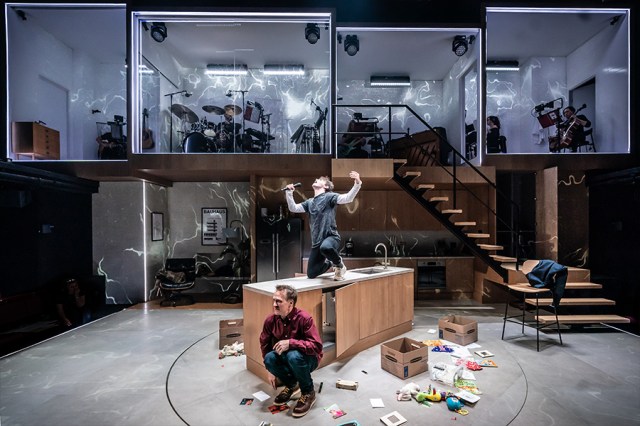 It's a very clever show, too, constantly pulling the rug out from your expectations. It begins with Diana, played with clear-voiced confidence by Broadway star Caissie Levy, singing about her "normal" family, boring husband Dan (Jamie Parker), teenage son Gabe (Jack Wolfe) and daughter Natalie (Eleanor Worthington-Cox) "a genius but also a freak." You think you are heading in the direction of a light-hearted show about the trials of family life, then suddenly Diana starts making sandwiches on the floor and the chaos wreaked by her mental illness begins to emerge.
Kitt and Yorkey are brilliant at depicting her agony, and the terrifying way it sucks every one of her family into its orbit, derailing each of them in turn. Some of the plot twists are too important to give away, but for Dan, for example, the constant attempt to keep things on track creates his own set of delusions; he makes himself into the perfect, loyal husband both out of love and fear, and Parker's ability to portray the suffering beneath the genial exterior is almost unbearably sad.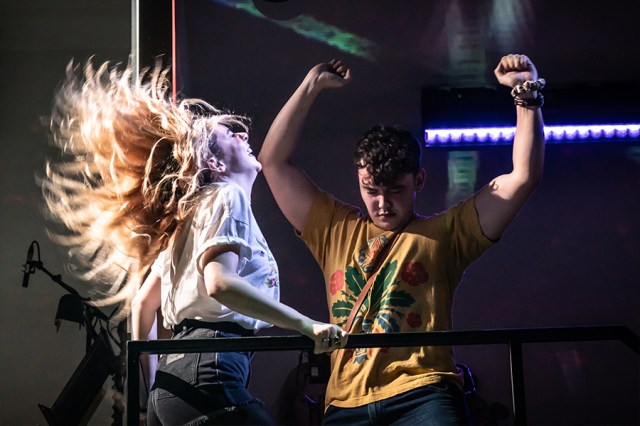 "Who's crazy?/ The one who can't cope/ Or the one who lives with hope?" he asks early on, and the destabilising effects of depression are built into Chloe Lamford's set, that combines the sleek beauty of an up-market architect's home, with screens that slide to reveal the band in the upper rooms. A revolve turns the furniture and the actors around, an image of constant movement reinforced by Ann Yee's subtle choreography, which shapes graceful images of falling from simple gestures.
Levy (who previously worked with Longhurst on Caroline, or Change) dominates the space, just as her illness overwhelms her family, singing wonderfully, carefully charting the stages of anxiety and terror as she seeks help from doctors (all played with grave concern by Trevor Dion Nicholas) who offer her pharmaceutical support (in a little snatch of parody of The Sound of Music), counselling, and finally the radical option of ECT which might wipe away her memories but will make her life less troubling.
One of the most impressive things about Next to Normal is the way that it considers mental health with deep seriousness, suggesting how little medical science knows, how much treatment is trial and effort, and how the person being "helped" might actually feel that the price of what seems like a cure is simply too high.  "The memories are gone, but the aftershocks live on," says Gabe at one point; this is a show that asks what makes a life, and what makes a person.
It also asks what makes a family, and the playing of Worthington-Cox, who becomes invisible to her parents, and of Wolfe as a Peter Pan-like brother is deeply moving. He sings like an angel, flinging himself around the stage like a rock god. Her character's trajectory is perhaps a little too predictable, but her closely observed and deeply felt performance is not, and she is beautifully supported by Jack Ofrecio as her faithful boyfriend, Henry.
All in all, it's an impressive piece of theatre.