Much Ado About Nothing (Queen's Theatre, Hornchurch)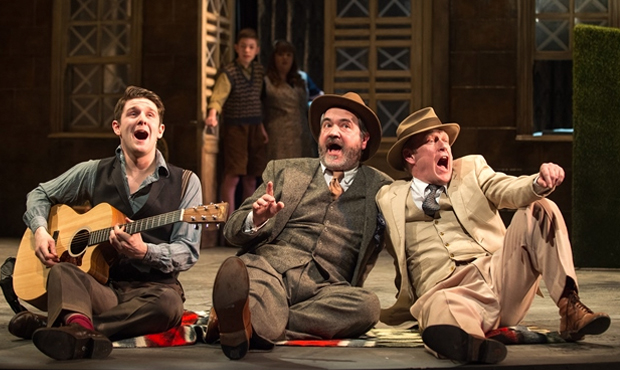 When the merry war of words between Beatrice and Benedick is resolved, and Hero's detractors routed, the stage at Hornchurch erupts in a company jitterbug to Al Jolson's "You Made Me Love You (I didn't want to do it)", a song newly popular here at the end of the Second World War when the Al Jolson Story was released.
It's a witty choice of song and fits the show, and this always jolly theatre audience, nicely. Director/playwright Douglas Rintoul begins his term as artistic director – in succession to Bob "Return to the Forbidden Planet" Carlton, who ran the Queen's for seventeen years – in the happy-as-a-sandbag mode of his predecessor.
There's always bunting and a sense of a community at the Queen's, which is miles away – geographically and spiritually – from, say, the National or the Almeida. It's a soft-focus popular theatre, a welcome antidote to pious, high-flown seriousness; this Much Ado will be followed with a new comedy by (and with) Nichola McAuliffe about elderly gym ladies and a new Chris Bond musical with a heroine from Romford.
There's a bit of a mis-match in Much Ado: Hattie Ladbury's graceful, willowy Beatrice so easily outmanoeuvres Thomas Padden's geeky, moustachioed Benedick that you wonder whatever it was they saw in each other they now pretend they don't. This removes an essential spring in the comedy, but Ladbury is superb at finding comedy in arcane phrases ("I'd rather lie in the woollen," "I am stuffed, cousin, I cannot smell") and she combines angularity for effect with common sense for real; she's obviously been a land-girl during the war, but her slacks and headscarf are still stylish.
The marriage of Hero to Claudio – sweetly played by debutants Amber James and James Siggens – is scuppered by the false accusations emanating from Liam Bergin's black-garbed Don John, and it's that calumny that shakes B&B into life, though "Give not this rotten orange to your friend" and "Kill Claudio" don't have the serrated edge that turns the play from daylight to murk. The mood is predominantly jovial, as set by Mark Jax's four-square governor Leonato, at once benevolent and dominating.
But where on earth have the zany, unfunny duo of Dogberry and Verges come from? Rachel Kavanaugh's Regent's Park Much Ado, also set in our 1940s war-time, delineated rank and station among the officers and made the police watch members of Dad's Army. It all worked perfectly. Here, the officers are squaddies and the watch a circus act. Still, the audience around me could not remember ever seeing Much Ado at the Queen's, and Rintoul gives them a good blast of a comic masterpiece and fills the stage with a couple of happy hours, even if the scenery is traditional and rudimentary; the garden hedges for the gulling of B&B are big boring blocks of… I've no idea what.
Much Ado About Nothing runs at the Queen's Theatre, Hornchurch until 26 March.